College of Business
Holiday food drive benefits Salvation Army
---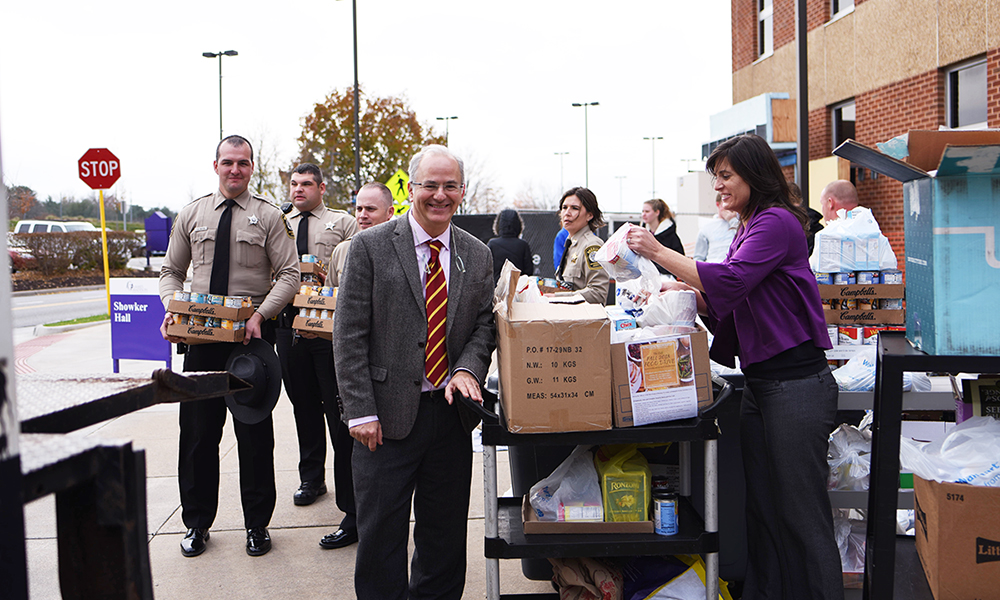 SUMMARY: The College of Business Diversity Council organizes a charity event in time for the holiday season.
---
For Daphyne Thomas, the spirit of giving runs deep at JMU. As the outgoing chair of the CoB Diversity Council, she has had the chance to see it in abundance. "Every year students, faculty and staff come together to collaborate with our local community to make a difference." 
Along with the campus police and city police, sheriff's office and Harrisonburg fire department, the College of Business Diversity Council honored the spirit of giving back to the community by organizing a food drive in time for the holiday season of eating and gifting. With the help of 30 first responders, they stuffed the Salvation Army trucks with some 6,500 food items. 
CIS major Halle Duenkel rallied her teammates on the National Champion JMU Lacrosse team, leading to around 1,200 donations. Duenkel sees JMU as a very generous place. "Every year I see the giving culture of JMU growing. From our faculty to our students everyone is understanding that there is a need in our area and an opportunity to help." 
Director of Development at the Salvation Army in Harrisonburg Ashley Gordon-Becker was very happy with the turnout, saying, "It was wonderful to see so many faculty, staff, students and first responders there to help. Our food pantry serves over 300 families a month and without the support of this food drive, JMU, and the community, we would not be able to help those in need." 
Student Advisory Council Secretary and volunteer Paige Majdic praised the level of involvement at the CoB. "Sitting at the donation table and watching endless amounts of students and faculty bring in food was incredibly rewarding. It's always amazing to see the entire College of Business come together for different events—this food drive was no different, as Dukes always show up and make a difference." 
According to Daphyne Thomas, this won't be the last event she will organize. Even though she is retiring at the end of the fall semester, she is already helping to plan the Dr. Martin Luther King Jr. day of giving in January. "We are blessed and honored to be a part of a caring and engaged community," she says. Because it's what JMU, the CoB and Dukes do.