Computer Information Systems
Examining non-profit challenges in the classroom
---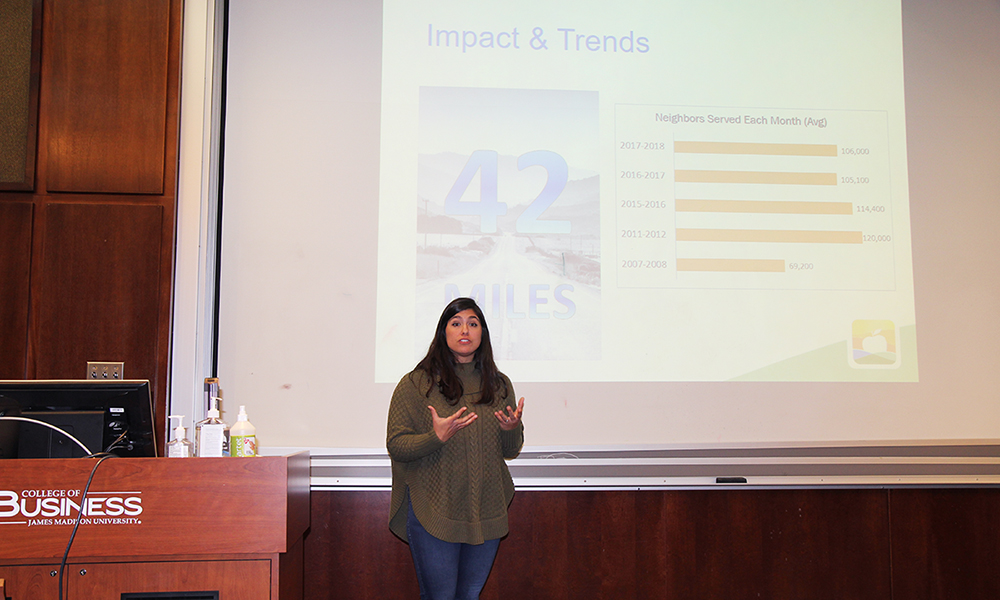 Michelle Hesse, a former JMU dietetics assistant professor with a Ph.D. in human nutrition and current director of agency relations for the Blue Ridge Area Food Bank returned to campus to lead discussions in Carey Cole's COB204 CIS/BSAN classes about the challenges of charitable food programs. 
The event was, by all accounts, well received. Hesse noted that "The students were highly engaged in the presentation. I believe I spent more time answering questions than I did sharing the content of my presentation. I was truly amazed at the depth and breadth of questions that were asked." 
Afterwards, students were encouraged to gather in groups and write out some reflections on the experience. Here are some excerpts.
"It was very interesting to see how information and material from this class can be applied to the real world. Knowing our school and teachers are making a difference in our community is very inspiring." – Kyle Stevens, Sean McNeely, Satchel Knight 
"The food bank uses a program called Nourish that was designed by some of the CIS students at JMU that encompasses the five component framework of CIS. By using software to learn about which foods are high in certain nutrients, it makes it easier for the food bank to use this data and target those particular foods. She also explained that it is in her five year plan to be able to use Nourish to find the best food options for different demographics, such as finding the ideal diet for a child and elder, respectively." – Jessica Snowden, Maisha Islam 
"Their technology saves them because through these pieces of technology and databases they are able to tell how much food they have, how much they can give to everyone, and how they are going to get it to the different locations all over Virginia. Without the technology they wouldn't have an updated record and without knowing that information it's very tough to make sure everyone gets a portion and would probably lead to people missing meals due to the shortage." – Ryan McCourt 
"Hearing about all of the amazing work the food banks do was an extraordinary opportunity. Having the chance to meet someone who works one on one with operations of the food banks is something the entire class was grateful for. The Blue Ridge Area Food Bank does remarkable work and we are optimistic they will continue their life changing service." – Madison Brown, Gabby Niedbalski
Published: Tuesday, November 27, 2018
Last Updated: Tuesday, May 14, 2019