College of Business
CFE holds fireside chat celebrating WEW
---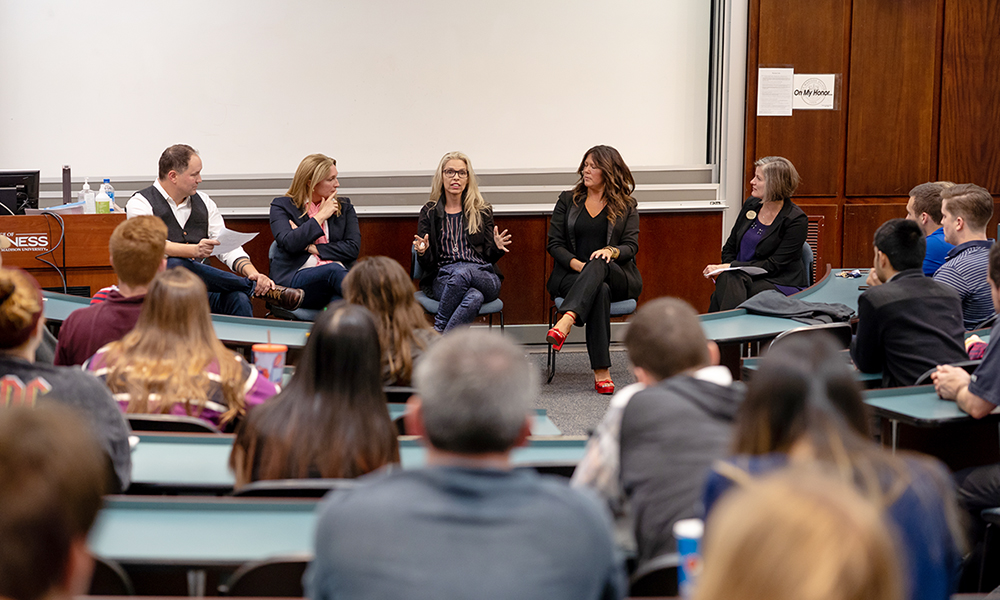 SUMMARY: As part of the growing global events surrounding Women in Entrepreneurship Week, the newly renamed Leslie Flanary Gilliam Center for Entrepreneurship (CFE) hosted a fireside chat on Oct. 16 featuring three successful women from a variety of business backgrounds.
---
Pictured (L-R): Patrick McQuown, Alison Andrew Reyes, Michelle McCormack, Angela Keaveny and Laura Leduc
Director Patrick McQuown moderated and served as host in a format that was designed to create a casual exchange of knowledge, experience and information with an opportunity for Q&A. Because of their varied backgrounds, the panelists had plenty of interesting stories to convey—from their greatest successes to their biggest mistakes.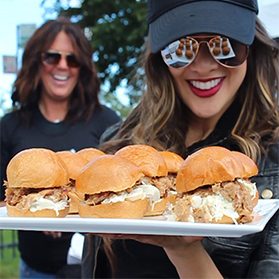 Angela Keaveny ('94) took her JMU foreign language degree to Chicago, where she worked in technology, then as a stockbroker. She eventually struck out on her own, and with her father's secret BBQ recipe, began Rowdydow BBQ, a company on the 2018 Inc. 5000 list of fastest growing private companies in the U.S. A seven-year 'overnight' success, Rowdydow ships beef and pork barbeque around the country to restaurants, sporting events locations, even our nation's troops. She is also a member of the Entrepreneurship Advisory Board at JMU.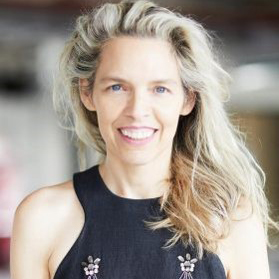 Michelle McCormack is a graduate of the School of Visual Arts in New York City, and spent 20 years as a fashion photographer. She is also a digital marketer, having built two successful online communities, and is considered a leading female voice in blockchain. In Jan. 2018 Michelle founded Casting Coin, a booking platform for the fashion industry.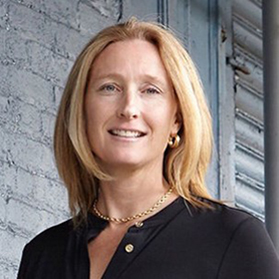 Alison Andrews Reyes is a partner at 1843 Capital, a women-run early stage technology venture firm advocating for gender equity in venture investment. After working in software and tech startups focused on web infrastructure and cybersecurity, she founded Vigilant and served as its CEO for 7 years before it was acquired by Deloitte. She is a graduate of Dartmouth College, where she majored in engineering.
Interim Management Department Head Laura Leduc said it was "a very successful event. The speakers shared some very valuable life stories and life lessons, and there were some good take-aways for the students."
The CFE at JMU is committed to hosting events annually in support of Women in Entrepreneurship Week. Of this inaugural panel, McQuown said, "Our entrepreneurship program here at JMU is very successful but we do not have gender parity and we want to change that. This is but a small first step in a long journey and women entrepreneurs are an action item for us."
Published: Wednesday, October 31, 2018
Last Updated: Tuesday, May 14, 2019