Computer Information Systems
Student Wins Scholarship to Disney Data Analytics Conference
---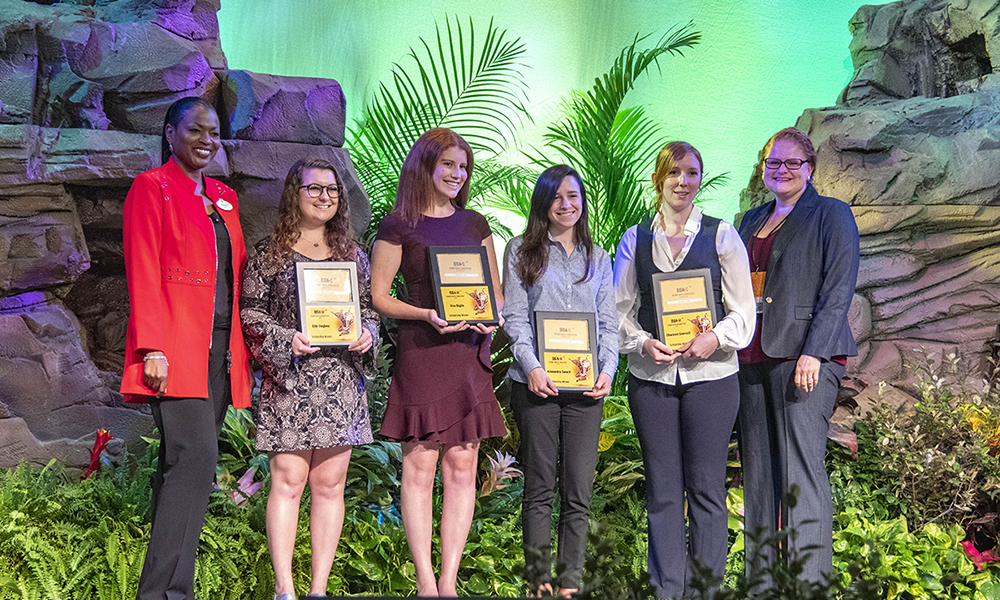 SUMMARY: Senior economics major and business analytics minor Alexandra Sward landed one of four nationwide scholarships to attend the conference in Orlando, Florida.
---
Pictured: Alexandra Sward, fourth from the left
Right as fall classes were about to start, Alexandra Sward took a whirlwind trip down to Orlando, Florida, to attend the annual Disney Data and Analytics Conference. The scholarship, awarded by Disney Data Analytics and Women, included airfare, hotel and travel expenses as well the cost of attending the conference, and was designed to provide experience and networking opportunities to women in data, currently a predominantly male field. 
Sward felt prepared for the conference in part by her classroom experience with SAS software, who were a sponsor and a partner with Disney. "It's an analytical software I learned in my econometrics class at JMU. It's extremely expensive and I wouldn't have been able to get any experience with it if I hadn't learned it in class." 
As part of the scholarship application, Sward was required to submit a poster displaying her work on a quantitative analytics project. "I used a homework assignment from my BSAN minor to get accepted to the conference, and there is a poster session where experts in the fields of decision science and operations research were looking at a JMU project and asking questions." 
The scholarship winners were paired with young professional mentors, and spent the first two days networking before the conference kicked off. Then, there were two busy days of presentations and keynote speeches. The first day's keynote speaker was Stephen Dubner, co-author of "Freakonomics." Sward had first row seats for the second day's keynote address, given by Adam Savage from TV's "Mythbusters." "That was pretty cool," she says. 
The experience was invaluable for Sward. "I met a surprising amount of data analysts and data scientists who also have a background in economics, so that was encouraging." While the conference kept her very busy over the four days, she says, "Disney is large employer of decision science people, so getting to be immersed in that was a once in a lifetime experience for me."