Finance
Congratulations to the five recent graduates who passed the CFA Level I exam
---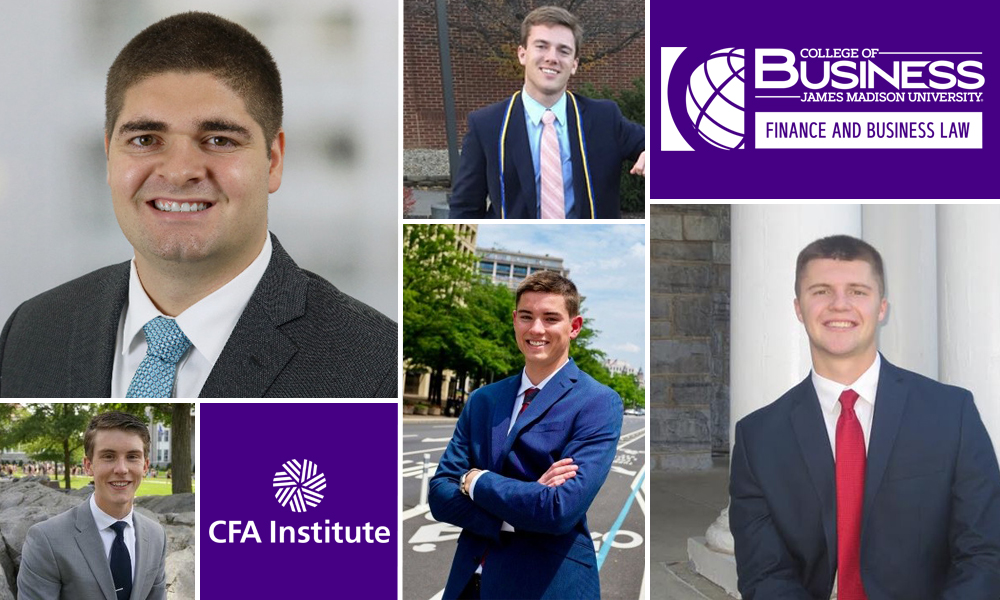 Already employed post-graduation, Joseph Burns, Jeremy Hodgkiss, Ted Hogan, Ryan Maguire, and Jake McMonagle join over 150,000 professionals across 163 countries who call themselves Chartered Financial Analysts (CFA) with a certification that is a standard in the financial industry. 
The CFA Program calls itself "the highest distinction in the investment management profession" and provides a globally recognized charter in advanced investment, analysis, and real-world portfolio management. The finance major at the College of Business embeds much of the CFA body of knowledge into its curriculum, and the financial analysis concentration is in part designed to help students prepare for the exam. 
Since JMU is part of the CFA University Affiliation Program, it helped arrange five scholarships paid by CFA for the students that wanted to take the exam this past spring, waiving the program enrollment fee and reducing the exam registration fee to $350. All five students were scholarship recipients. 
Finance Department head and CFA certification holder Hui Sono says, "It is such an achievement for students to complete the CFA Level I exam right after their graduation. It not only helps to distinguish them from peers in the workplace, but it also validates the rigor of their undergraduate training and their capability to perform under pressure."