College of Business
JMU College of Business Celebrates Commencement 2018
---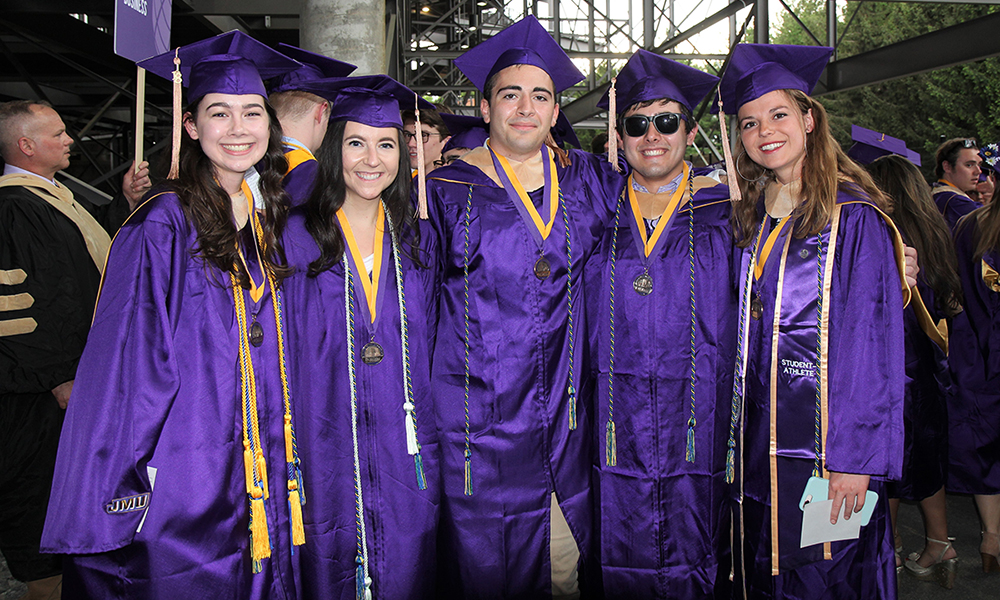 SUMMARY: JMU College of Business welcomes 1,011 new alumni.
---
by Mary Gowan
In two days of commencement activities, the College of Business welcomed 1,011 new alumni into its ranks as 932 undergraduate students, 78 masters degree students, and one doctoral degree student became the most recent graduates of programs within the college. The Bachelor of Business Administration, Bachelor of Science, and Bachelor of Arts degrees were conferred by University President Jon Alger in an afternoon ceremony in Bridgeforth Stadium on Friday, May 4, 2018. Later that evening, 932 new graduates participated in the College of Business ceremony, also in Bridgeforth Stadium. Majors of graduating students included Accounting, Computer Information Systems, Economics, Finance, Hospitality, International Business, Management, Marketing, and Sport and Recreation Management.
Alumni Jason Harris ('93, Economics), CEO and President of the award-winning creative agency Mekanism, encouraged the graduates to write their own story. "Spend the time to craft it. And ask yourself continually if what you are doing today is getting you closer to where you want to be tomorrow." Mr. Harris serves on the Board of Directors for Advertising Week and the UN Social Impact Leadership Council. He is also a co-chair and founding member of Civic Nation Creative Alliance. In 2015, he was named the 5th most influential social impact leader, and in 2017 was named by the American Association of Advertising Agencies as one of the top "100 People Who Make Advertising Great." 
Harris was joined on the stage by student speaker, Jake McMonagle, and faculty speaker, Richard Tate. McMonagle is a double major in Quantitative Finance and Mathematics, with a Risk Management concentration. Jake gave voice to what many were feeling when he said, "JMU is a gem in the scholastic landscape that cultivates passion and excellence." 
Richard Tate is the Director of the Center for Professional Sales and a lecturer in the Department of Marketing. He was selected by the students as the Otto C. Brenner Memorial Award for Excellence recipient this year. He told the graduates "From here I can see the future. It looks very bright. You are prepared to make the difference." 
The MBA, Master of Science in Accounting, Master of Science in Sports and Recreation Leadership, and doctorate in Strategic Leadership Studies degrees were conferred in the Convocation Center on Thursday evening, May 3, 2018.