Finance
Student MIF Members 'Pay it Forward'
---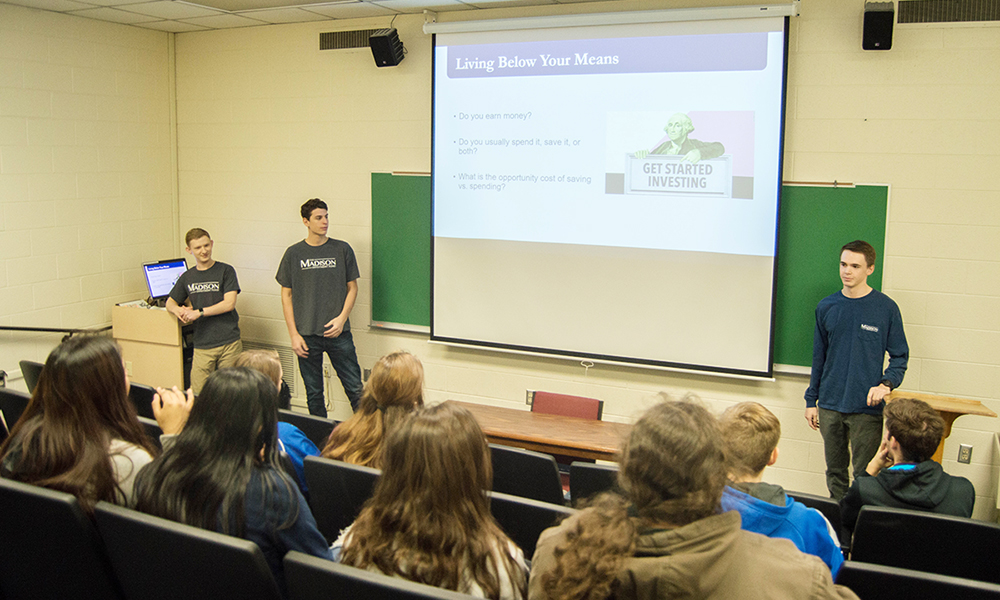 SUMMARY: Madison Investment Fund group brings in almost 50 high-school students to teach them how to invest in their future.
---
The Madison Investment Fund is a student-lead equity investment fund that manages a portion of the James Madison University endowment. Since its inception in 1999, it has seen the value of its portfolio grow from $100,000 to nearly a quarter of a million dollars. In addition to helping the JMU community, the MIF generously shares its knowledge and enthusiasm with area high schoolers.
On April 6, students from Turner Ashby, Spotswood and Broadway high schools came to JMU for a day of seminars and presentations to teach them about investments, finance and business concepts. The attendees were treated to 50-minute sessions on investing, handling personal finances and understanding financial markets. The students were able to present what they learned, ask questions and come away with sharpened investment knowledge and greater business acumen.
MIF COO and event organizer Michael Smyth said, "I think this was all around a great day, the high school students really learned a lot about personal finance and investment and the members of the MIF really enjoyed putting it together."
After the event, Turner Ashby High School business teacher Karen Miller said the "presentations from MIF members were impressive. The quantity and quality of data that club members shared was tremendous," adding, "My students first attended the sales pitch presentation and even I sat in awe at the depth of data presented. As usual, MIF members were articulate, organized, and knowledgeable. I hope that the MIF members next year will conduct similar workshops and will invite us to attend again."
President Jake McMonagle enthusiastically summed up the group's dedication to help others by saying, "Our pay it forward culture is exemplified through events like 'Invest In Your Future' where we can run an educational platform to build future business leaders."