College of Business
Bill Nash returns to JMU as CarMax CEO and CoB C-Suite Speaker
---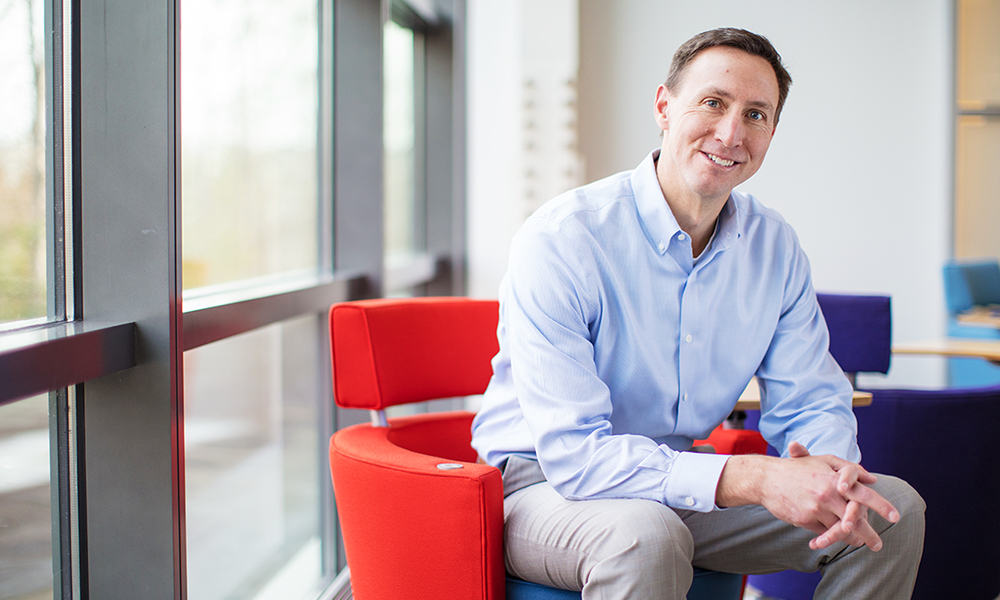 SUMMARY: Bill Nash, President and CEO of CarMax, spent an eventful day at JMU as part of the College of Business (CoB) C-Suite Speaker Series.
---
On March 1, the JMU CoB welcomed another industry leader to its C-Suite Speaker series when it featured Bill Nash, President and CEO of CarMax. Over the course of his 20 years at CarMax, Nash moved from auction manager through a series of progressively senior roles until he was appointed CEO in 2016. 
A Duke himself, Nash earned a B.B.A. with a concentration in accounting at JMU before working as a CPA for the public accounting firm of Phibbs, Burkholder, Geisert and Huffman. He joined CarMax in 1997 after working a variety of positions at Circuit City. 
While on campus, Nash met with Dean Mary Gowan and President Alger, and conducted a discussion in Dr. Angela Heavey's MGT 475: Managing and Retaining Human Capital class. Nash took the time to answer a number of student questions on topics such as career paths, work-life balance, employee performance appraisals and interviewing. Dr. Heavey said, "Hearing from a JMU alum who is a current CEO was a fantastic opportunity for students. His thoughts on recognizing the value of employees and maintaining a strong organizational culture resonated with the class." 
Nash's visit culminated with a well-attended public presentation featuring a Q&A titled "Driving Change and Innovation in Business," which showed how the nation's original disruptor of the used car industry is continuing to revolutionize the customer experience. Following a reception, Nash sat down to dinner with faculty and some 20 students from the CoB. 
Marketing major Lacey Caviness attended the dinner, and enthusiastically characterized it as "So much fun! We spent most of the meal discussing our dreams and aspirations and finished up the meal discussing how Bill Nash rose to his current position. It was very interesting to hear what he has planned for Carmax in the next few years and I was thankful for the opportunity to meet and speak with him!"