Computer Information Systems
Finding Solutions for the Department of Defense
---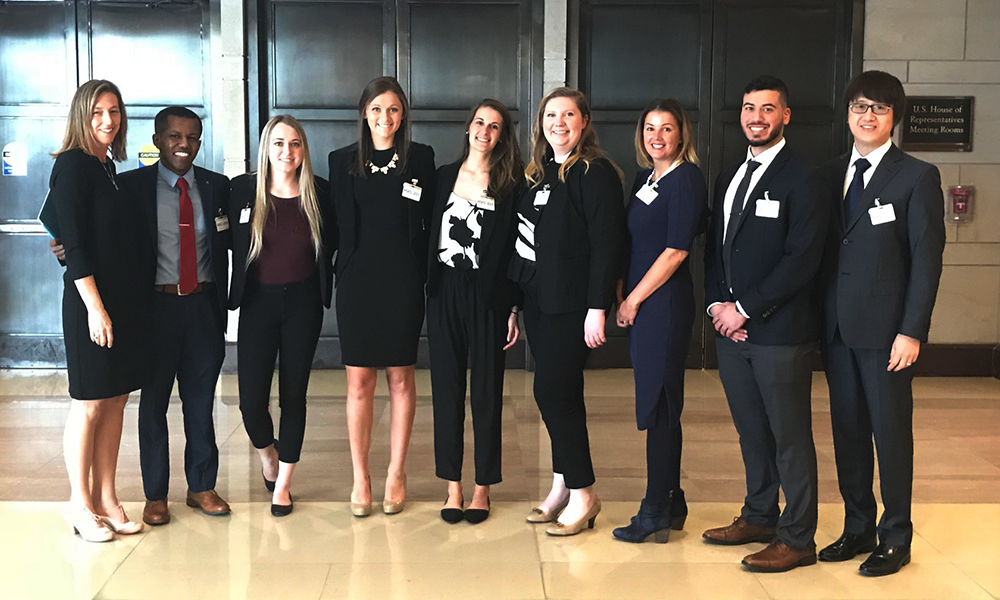 SUMMARY: Dr. John Guo of CIS and a six-student undergraduate team attended a congressional briefing and presented some of their classroom experiences and ideas to the panel.
---
On March 15, a contingent from JMU's Hacking 4 Defense (H4D) class, led by CIS faculty member Dr. John Guo, made the trip to Washington, D.C. to attend a congressional briefing along with groups from Georgetown and Columbia University. The H4D program, initially created by Stanford professors in conjunction with the Department of Defense (DoD), gives students the chance to work with real battlefield problems and to provide well-reasoned, viable solutions; for example, an app that would streamline communications between the various branches (air support, marines) in a battle zone, where sometimes there aren't such direct avenues of immediate communication in place. 
Of the eleven schools that currently participate in the H4D program, JMU is the only one that offers the opportunity to undergraduates. Dr. John Guo, an associate professor of Computing Information Systems and Business Analytics, co-taught the first class in spring of 2017. Guo describes the class as "a truly cross-disciplinary effort," which also featured professors from CoB, Biology, Nursing, Writing Rhetoric and Technical Communication, and ISAT. The student team that attended consisted of Erin Few (International Affairs), Nahom Fissaha (Engineering), Rachel Heatherly (WRTC/CIS Minor), Jaron Martinez (ISAT), Emma Richer (Nursing) and Melissa Toman (International Affairs), with Fissaha and Richer doing the presentation. 
Discussing the unique opportunity H4D offers students, Guo says, "One of the commitments that the DoD entities make is to ensure that when the students go out and do the customer discovery, they can talk to people. Take for example an Air Force problem—when the students first encounter the problem, they need to define what the problem is they are trying to resolve specifically. They can't just do that in the classroom, brainstorming. They have to get out of the building and interview the stakeholders. The DoD makes sure they have access." He adds, "There are multiple benefits coming out of this program, on a high level." Student Nahom Fissaha called it "probably the most unorthodox but phenomenal course that I've taken in my undergraduate career."