College of Business
Inspired Leadership
---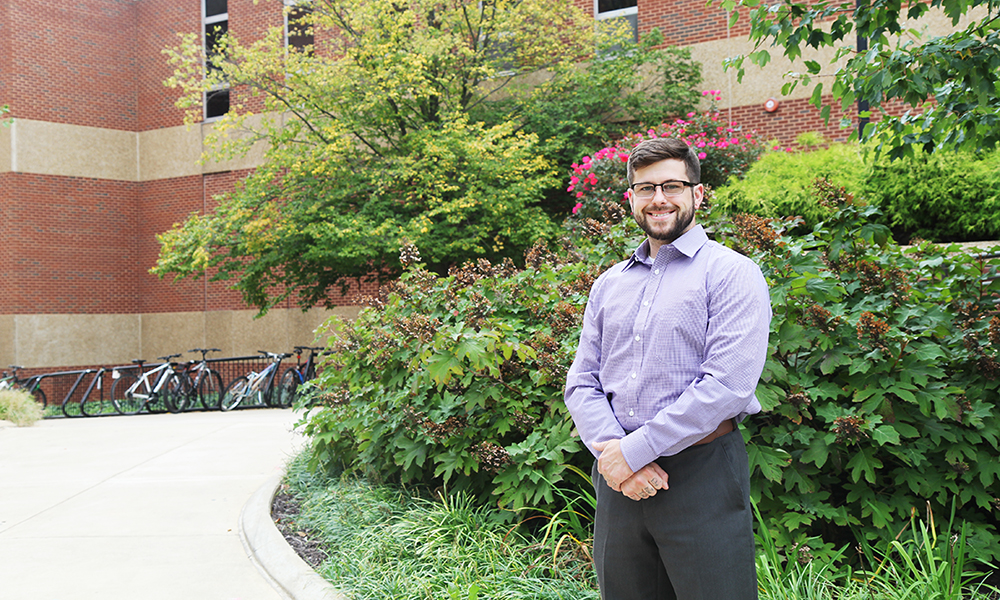 SUMMARY: Junior Will Chapman, a former Marine, inspires classmates and professors with his determined and positive spirit.
---
For as long as he can remember, Will Chapman wanted to serve in the U.S. Marine Corps and eventually join the Special Operations Forces (SOF). But after a serious combat injury derailed his plans, Chapman found his way to JMU's College of Business, where he enjoys helping others and preparing for a career in accounting.
Chapman, who joined the Marines after graduating from high school in 2008, was serving in Marjah, Afghanistan, on March 31, 2010. During a routine patrol of the city—the last Taliban stronghold at the time—his company was ambushed. A bullet from an AK-47 struck Chapman in the leg. As his team helped him away from the site, he stepped on a pressure plate IED (improvised explosive device). Chapman sustained multiple injuries, including a concussion, bone fractures, a ruptured spleen and burns.                                                                                                                                 
Chapman's recovery included time spent in the Wounded Warrior Battalion and an assignment as an instructor for the Orientation Platoon. After learning that the loss of his spleen made him ineligible for the SOF, Chapman decided not to reenlist in the military.
A Purple Heart recipient, Chapman enrolled at JMU in fall 2014 as a kinesiology major before switching to management and then accounting. At the same time, he was struggling with post-traumatic stress disorder (PTSD) and depression. He withdrew for much of the 2015-2016 academic year.
"I took time out to prioritize my life and to figure out what my goals were," says Chapman, a junior. "I spent time overcoming depression and learning about an accounting career. I liked JMU's focus on public accounting and the sense of integrity and ethics that come with the profession."
Chapman returned to JMU in the fall of 2016, ready to tackle the challenge of accounting. The concepts were difficult at first, he says, but eventually it just clicked. He has organized and led a peer study group for classmates. Chapman also serves as vice president of professional events with Beta Alpha Psi. After graduating, he aspires to work for a Big Four accounting firm.
"Several times in my life, I've had to face obstacles—but I've also had to really look deeply into myself and examine what pushes me to do better and to figure out what I want to do," says Chapman, who received Beta Alpha Psi International's Medal of Inspiration in August. "Coming to JMU has given me the ability to look at myself as a person and figure out who I want to be and the steps I have to take to accomplish that. To be able to become engaged in my classes and in student organizations where I'm surrounded by people who are motivated and driven has pushed me to grow."
Published: Monday, October 9, 2017
Last Updated: Wednesday, January 2, 2019