Marketing
From Theory to Practice
---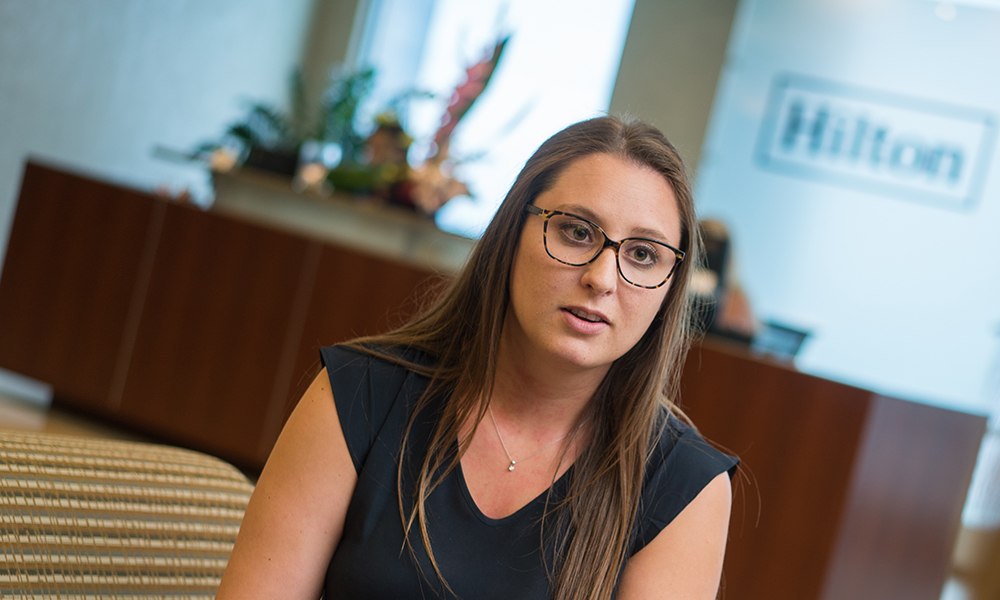 SUMMARY: JMU marketing major Jami Adler, '18, gains practical skills during her second summer internship with Hilton Worldwide.
---
For JMU marketing major Jami Adler, '18, a second summer internship with Hilton Worldwide has provided the opportunity to put classroom theory to practice--and to gain confidence in her abilities as a marketing professional.  
An HR operations and marketing intern for the global hospitality company, Adler has planned strategies, developed tracking measures and created collateral for several marketing campaigns, including the promotion supporting the launch of the company's global Heart of House program. She's also taken on responsibility for her department's social media marketing efforts. 
"I loved my internship experience so much last summer that I wanted to continue on my path with Hilton," says Adler, who worked last year as a Luxury and Lifestyle Brand Marketing Team intern. "This has given me the opportunity to connect the education I've gained at JMU to a workplace setting." 
For the past two years, Adler also has been an undergraduate research assistant with JMU marketing professor Theresa Clarke. Their first research project, in collaboration with a professor from another university, explored how celebrity chefs market themselves on Pinterest and other social media sites. Their findings recently were published in the International Journal of Hospitality Management. For her senior honors project this academic year, Adler is investigating the product attributes consumers seek when buying sports apparel. 
A strong student leader on campus, Adler is a founding member of Collegiate DECA, a student-driven organization that prepares students for careers. Active with sorority Phi Mu and in the Madison Marketing Association, Adler was among 80 college students from across the U.S. selected to attend the Marketing Edge Collegiate Summit in June. There, she had opportunities to connect with seasoned professionals from companies such as Google, IBM, Verizon Fios, Conde Nast and many more.  
"I've gotten a great education at JMU, and I'm grateful to the many opportunities I've had to apply what I've learned to the business world," Adler says. "I'm using the skills I've learned in the classroom to develop marketing collateral that's being pushed out to Hilton hotels globally--so it's really cool to see the contributions I'm making here at Hilton. I'm not just doing trivial jobs. I'm actually working on marketing campaigns that are being rolled out globally. That's exciting for me."