Economics
Summer Course Focused on Building Lifetime Wealth
---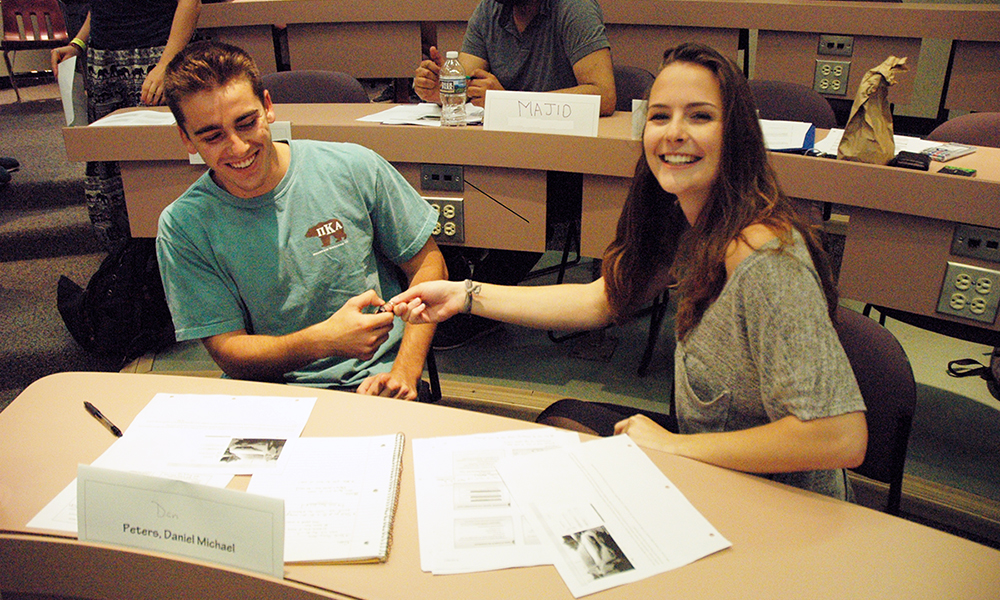 SUMMARY: One CoB summer session is focused on building lifetime wealth, using principles of personal financial literacy developed by WISE, as well as advice from radio show host Dave Ramsey. In the photo above, car buyer Dan Peters gets the keys from sales associate Kristine Parisi after a simulated auto sales negotiation in the course.
---
Contributed by the Department of Economics.
A select group of students at JMU's College of Business (CoB) is learning how to build lifetime wealth – and help others do the same thing – in a grant-supported experimental class. 
The course design and material development were supported by grant funds from the George and Shelley Payne Endowment for Faculty Support in the College of Business. George Payne, of Keswick, Va., is a 1979 CoB graduate. 
"This class goes deeper than a traditional personal finance class," says the course's instructor, economics professor William C. Wood. "It shows students the principles of wealth building but also qualifies them to tutor high school students in personal finance through a nationally standardized test." 
As part of the class, students are taking the national WISE test in personal financial literacy - a standardized test developed by the New York-based nonprofit Working in Support of Education. 
"Students took a standardized pre-test on day one, and they'll take the full test as a post-test on final exam day," Wood says. "We can compare scores and see how much they've learned." 
Students who pass the test as WISE-certified will be fully qualified to serve as volunteer tutors in their home school districts in Virginia or in the area surrounding the university. The WISE test also has been used by JMU to qualify teachers of Virginia's required high school class in personal finance and economics. 
In addition to standard personal finance materials, students are studying the online Gen i Revolution game, for which Wood served as economic content developer. Students play the personal finance game and then submit reviews to be used in a future redesign of the game. 
Students also will be reading "Dave Ramsey's Complete Guide to Money," which offers advice on budgeting, saving money, getting out of debt and investing. Noting that Ramsey often tells callers to his radio show that "debt is dumb," Wood says the class will explore whether that statement is always true---or if there are circumstances in which it may be wise to take on debt to finance appreciating or essential purchases such as homes, education or cars.  
"Dave's down-home advice is often at odds with traditional personal finance," Wood says. "In this class we're studying why down-home advice may actually beat more sophisticated financial plans."