Business Management
JMU Sigma Iota Epsilon Chapter Welcomes New Members
---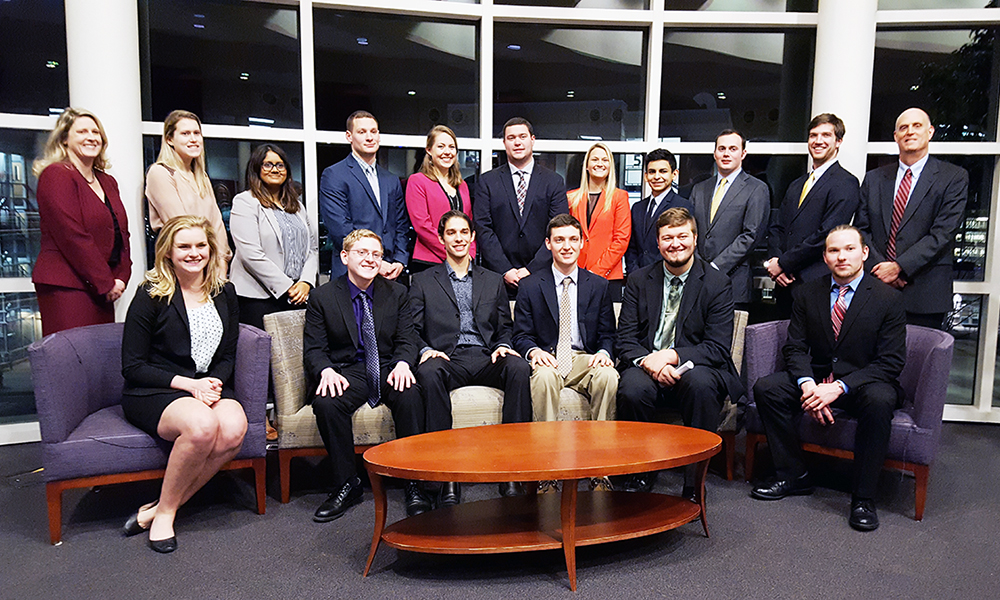 SUMMARY: JMU's chapter of Sigma Iota Epsilon inducted eight new members, who were invited to join the organization in recognition of their outstanding academic achievements in management.
---
The JMU chapter of Sigma Iota Epsilon (SIE), the national honorary and professional management fraternity, inducted eight new members on Wednesday, Feb. 15. 
The organization recognizes academic excellence in management studies while providing opportunities for management students to interact with practicing managers. Membership is extended by invitation-only to initiates with a minimum 3.25 GPA. 
JMU alumnus Christopher Campbell, a senior manager with Deloitte Consulting LLP, spoke at the event to welcome the new members and encourage their continued achievements. A 2000 graduate with a B.B.A. in human resources management and services, Campbell, is Deloitte's Federal Human Capital practice expert for leadership development program engagements. He also is a leadership sponsor for the firm's Federal Leader Development Community of Practice, as well as for key eminence initiatives, including sponsorship with the Senior Executives Association. 
JMU's SIE chapter has hosted numerous activities to support the Department of Management and the College of Business, including a service project at Mercy House for the CoB MLK Day of Service. They also sponsor numerous professional development activities such as networking events and company visits that allow students to experience different work environments. SIE students also participate in competitions such as the Deloitte Data Blitz and Target Case competition, giving them opportunities to apply what they've learned in the classroom to real-world business scenarios. 
"Being SIE members allows students to participate in meaningful professional development activities that boost their skills," says management lecturer Chris Roeder, who co-advises the JMU SIE chapter with Dan Zisk, also a management lecturer. "It also gives students an opportunity to network with faculty and to receive mentoring and coaching in interpersonal and leadership skills."
The newest inductees for JMU's SIE chapter are:
Spring 2017

Roberto Marcelo Alcocer Aguila
Colin Edward Clark  
Hannah Ruth Deal
Ryan Doherty
Brandon Dale Pleasants
Austin Clay Richardson
Jessica Lee Richmond
Ryan William Wimble

Fall 2016

Nicole Marie Braun
William Wymond Cabell II
Emily Elizabeth Clapp
Elwood Samuel Edgin
Austin David Hurlbrink
Andrew James Ledman
Bhoomika Manjunath
Matt Medwed
Leigh Margaret Mulligan
Spencer Michael Rose