College of Business
Bringing Wall Street Expertise to JMU
---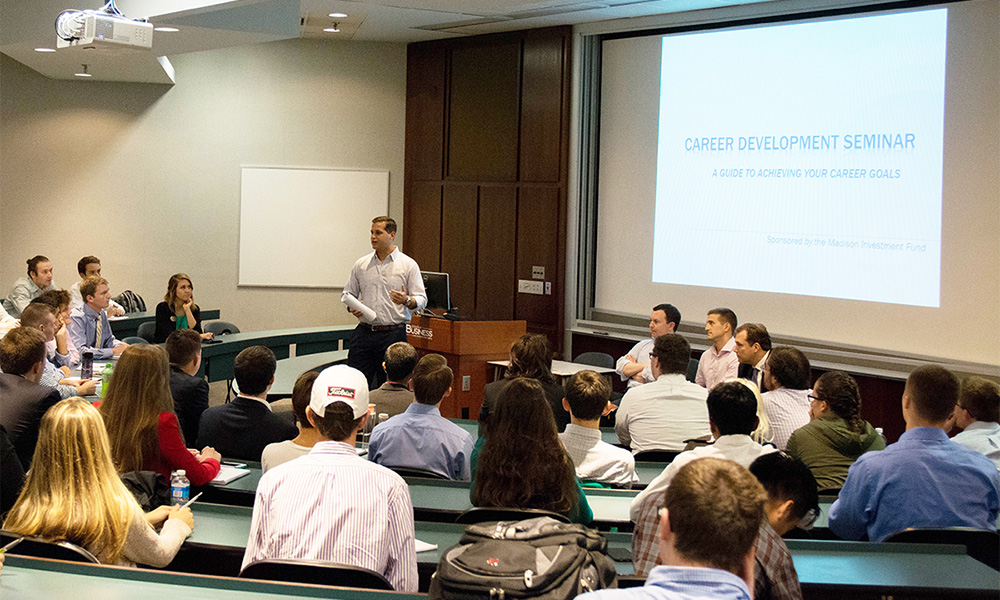 SUMMARY: The Madison Investment Fund Career Panel welcomed four alumni who offered valuable career advice for students
---
Four alumni from the College of Business (CoB) were panelists for the Madison Investment Fund (MIF) Career Panel on Friday, Oct. 7. CoB graduates Justin Quaglia, '11, JP Kril, '13, Ted Backer, '95, and Patrick Langan, '11, traveled from Los Angeles, New York and Washington, D.C., to talk about their careers and offer career advice to students. With more than 50 students in attendance, the panelists shared tips on everything from interview preparation and business etiquette to networking and transitioning from college to the professional environment. 
"It is truly amazing that we have such a successful group of alumni that have pioneered their way onto Wall Street and are willing to give back, share their stories and advice, and help students navigate a career trajectory," says senior Zach Weiss, MIF president. "These alumni exemplify the potential of a James Madison student in the professional world. It was an invaluable experience to absorb their stories and perspectives." 
The MIF is a student-run equity investment fund that manages a portion of the JMU endowment.