College of Business
CyberDay Targets Middle-Schoolers
---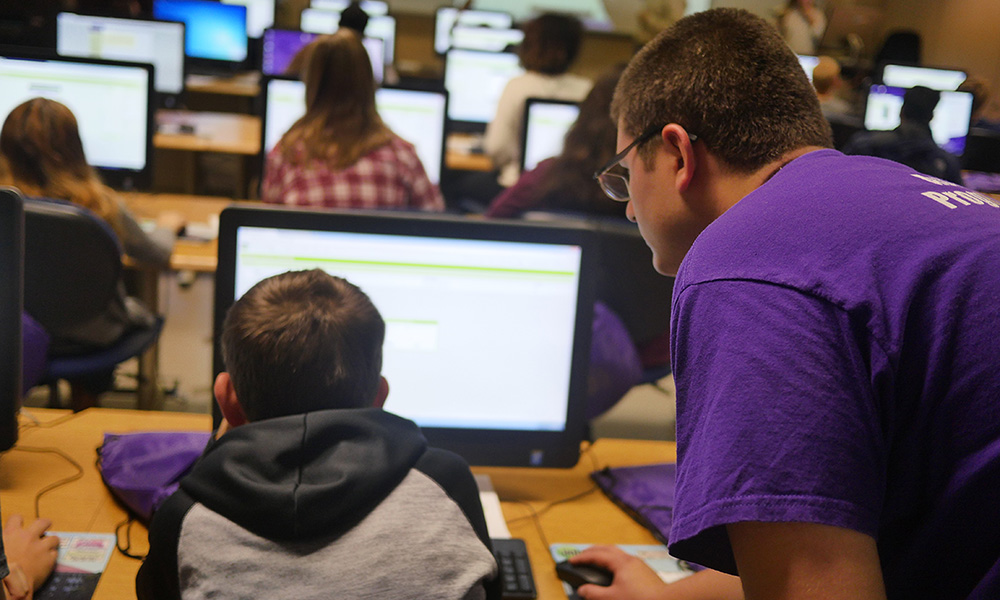 SUMMARY: JMU's College of Business hosted CyberDay on Friday, Oct. 7, for local middle school students. For nearly a decade, CyberDay and its precursor, CyberCity summer program, have hosted over 600 students and about 30 teachers to promote computing and information technology education and careers. In the past, the programs have been recognized with diversity initiative awards from ABET (the accrediting organization for collegiate programs in applied science, computing, engineering, and engineering technology) and the Shenandoah Valley Technology Council. They also have been nominated for several state-level awards.
---
The following story was originally published by the Daily News-Record, Harrisonburg, VA, on Saturday, October 8th.  Re-used with permission.
by Erin Flynn, Daily News-Record
HARRISONBURG — James Madison University got 50 new students on Friday, but they're a bit younger than one might expect.

Seventh- and eighth-grade science, technology, engineering and math students from Elkton and Wilbur S. Pence Middle schools were given a chance to see what it takes to be a college student during the institution's CyberDay.

"They work in a computer lab, they eat on campus, they live on campus for the day. They spend the whole school day at the university," said Harry Reif, an associate professor in the JMU College of Business and one of the event's founders. "I think that's pretty cool for an eighth-grader."

For the past six years, the College of Business has been hosting middle school students through its CyberCity Program, which introduces Virginia youth to technology-related fields.

Three College of Business staff members — Reif, Professor Tom Dillon and Daphyne Thomas, an eminent professor — began the program.

CyberDay began as a multiple-day summer camp, Reif said. Over the years, it evolved into a one-day event held four days throughout the year, allowing the college to serve more students.

Getting Their Feet Wet

On Friday, the middle school students developed smartphone applications using App Inventor, software from Massachusetts Institute of Technology.

"Basically, they create a game on their computer," said Reif, who added that the students are given a ball and must teach it certain behaviors. "You have to teach the game what it's going to do."

The activity was right up 12-year-old Alston Knight's alley. Alston, a seventh-grader at Elkton Middle, is an aspiring game designer.

"It was really fun because it's a wide variety of things you can do," said Alston, the son of Miranda and Glen Knight. "[At school] we normally don't sit at computers and learn stuff like this."

Reif said there's a national and global need for people knowledgeable about technological infrastructure and developing applications.

"We do this because it's a way to give back to the local community and prepare some of our students for successful and fun and rewarding careers that meet a national need," he said. "That's what's in it for us. We need more great people to be technologists."

Ten JMU students assisted with CyberDay.

Senior Allison Zeppuhar, 21, of Pittsburgh, was among those leading activities.

"I myself wanted to learn more about mobile app development and get more younger kids interested in technological stuff," she said. "I think it's a good introduction that [lets them know] this kind of stuff is out there."

It also prepares them for their capstone project that's due at the end of the year, said Sal D'Angelo, a STEM teacher and eighth-grade science teacher at Elkton Middle.

For the project, the students must do research or design an object.

"We can take that a step further … and maybe they can make an app for their project," D'Angelo said.

STEM activities and classes, he added, challenge students who are typically "high achieving."

"That's why I like this class. Because it puts them outside of their comfort zone," D'Angelo said. "I think it's making them better students in the future."
Published: Tuesday, October 11, 2016
Last Updated: Thursday, January 4, 2018