College of Business
Practicing Professional Skills
---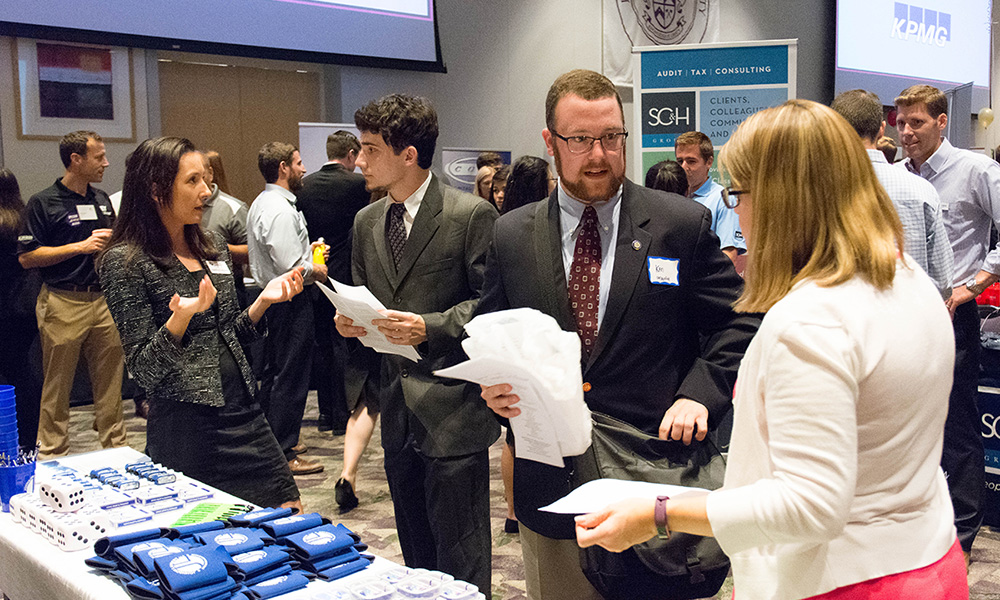 SUMMARY: Meet the Firms Networking Event Brings Key Employers to Campus
---
More than 50 potential employers came to campus last week for Meet the Firms, a combination networking event and job fair that offered business majors in accounting, finance and computer information systems (CIS) the chance to network with business professionals and explore potential job opportunities.
"Having so many potential employers available at the same event benefitted students by getting them started with comparing the different opportunities each firm offers," says accounting lecturer Eileen Shifflett. "Since the event was open to students at all levels of progression through the College of Business (CoB), employers came prepared to answer questions regarding externship, internship and full-time employment opportunities. For many students, this event also represented their first chance to engage in conversation with potential employers. That ultimately will allow them to become more comfortable with the process as they move forward in the search for their perfect job."
The annual event, hosted on Sept. 14 by JMU's chapter of Beta Alpha Psi, the premier international honor and service organization for financial and business information students and professionals, gave students a chance to connect with numerous JMU CoB alumni who came to recruit for their firms. They also had a chance to submit resumes and sign up for interviews. Platinum sponsors for the event were KPMG, Deloitte, DHG (Dixon Hughes Goodman LLP), Cherry Bekaert, EY, Veris, RSM, PwC, Johnson Lambert and RyanSharkey.  
"This event is  arguably the best networking and recruiting event available to our students," says JMU's Beta Alpha Psi chapter president Scott Archer, a graduate student in accounting. "Beta Alpha Psi is an extremely important part of JMU's relationship with many of these firms. A large portion of these firms come to campus each year just for Meet the Firms or for our organization's professional meetings, so we try hard to keep these firms coming back and happy."
If you're interested in attending the 2017 event, please email bap@jmu.edu for more information.