JMU Wins Big in 2016 Google Marketing Challenge
JMU News
---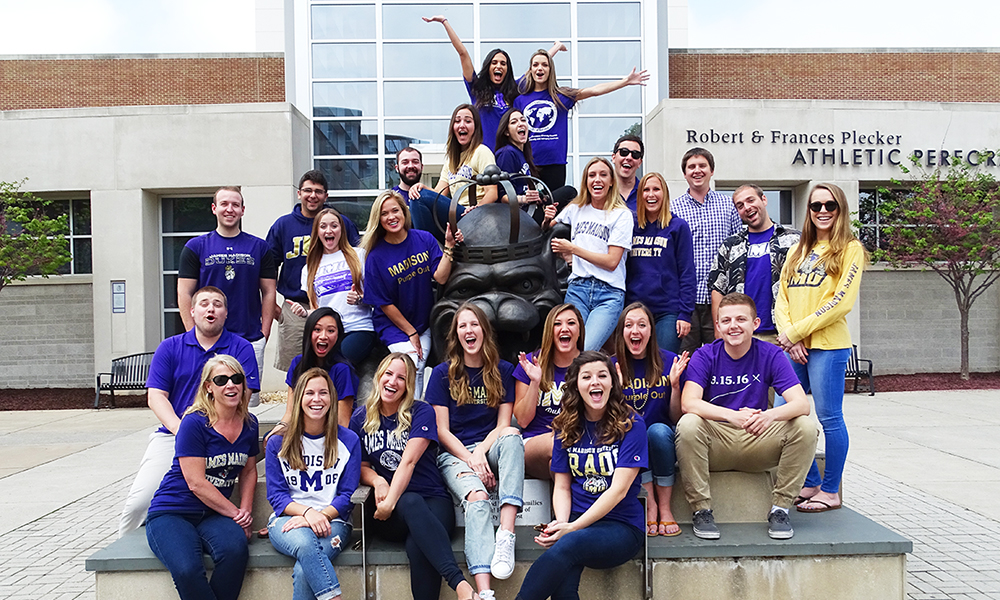 SUMMARY: College of Business students continue to dominate worldwide competition.
---
Two teams of JMU marketing students earned $20,000 for two Virginia non-profits by competing in the ninth annual Google Online Marketing Challenge (GOMC). 
The students were among 20 from the College of Business (CoB) who won top awards in the GOMC's three competitive categories: AdWords Business, Social Impact and Social Media Marketing. They participated in the GOMC as a required component of marketing professor Theresa Clarke's digital marketing practicum course, competing with more than 500 professors and 10,000 students worldwide, according to the 2016 GOMC results. 
Senior Lynn Radocha says the competition combined classroom concepts with practical, hands-on experience. Radocha was captain of the team that won the 3rd Place 2016 GOMC AdWords Social Impact Award. The award comes with a $5,000 donation from Google for their client, the Rockingham/Harrisonburg SPCA, a non-profit animal rescue shelter. They also were selected as the Americas Winner of the 2016 GOMC AdWords Business Award and a Google+ Social Media Marketing Finalist (top 5 in the Americas region). 
"Working as digital marketing consultants for the Rockingham/Harrisonburg SPCA allowed our team to build skills that cannot be taught in the classroom - to understand the non-profit sector and help bring their digital advertising to a completely new level," says Radocha, who is enrolled in JMU's adult degree program with a marketing communications concentration. "It was a great experience to collaborate with the wonderful, compassionate people at the SPCA, who are incredibly dedicated to continuously improving the lives of animals." 
Clarke's course focuses on online and social media marketing using Google AdWords and Google+. Starting with a $250 advertising budget provided by Google, the GOMC gives students an opportunity to develop and run online advertising campaigns for businesses or non-profits during a 3-week period, according to the Google Online Marketing Challenge Web site. 
The competition helps students master the basics of PPC (pay-per-click) marketing, a model in which advertisers pay a fee each time their online ads are clicked. Clarke's students also are required to become AdWords certified, and CoB alumni of the course act as mentors, offering tips and strategies for success. 
"I am incredibly proud of the phenomenal accomplishments from the Class of 2016 and the online marketing impact they made for their clients," Clarke says. "These students invest many hours in this course, and are dedicated to providing a great service to their clients. This experience gives them important practical experience that will make them competitive in the job market." 
Emily Maynard, a 2016 CoB graduate, says the experience of serving as captain for her award-winning team helped her develop the skills to land a job as a project manager in Capital One's human resources department. She and her teammates were the 1st Place winners of the 2016 GOMC AdWords Social Impact Award, earning a $15,000 donation from Google for the Children's Science Center of Fairfax, Va.
"I learned so much about the importance of being able to communicate effectively with your team and with your client," says Maynard, a marketing major whose team also was an AdWords Business Semi-Finalist. "It's about relaying to the client what you're doing throughout the process, asking questions and being a leader. A lot of my experience with the Google Online Marketing Challenge has translated into my new job, and I hope it will make me successful in my career. We put in a lot of work for this competition and were really happy with the end result of our project. Winning was icing on the cake."
The JMU winners of the GOMC are:
Lynn Radocha (Team Captain), Alex Adley, Maianh Phan, Cari Ross, and John Thompson
Americas Winner of the 2016 GOMC AdWords Business Award
Google+ Social Media Marketing Finalist (top 5 in the Americas region)
3rd Place Winner of the 2016 GOMC AdWords Social Impact Award (winning a $5,000 donation from Google for the Rockingham/Harrisonburg SPCA)
Emily Maynard (Team Captain), Jacob Brown, Amy Goffe, Christine Provino, and Jacob Shibley
1st Place Winner of the 2016 GOMC AdWords Social Impact Award (winning a $15,000 donation from Google for the Children's Science Center)
AdWords Business Semi-Finalist (one of the top 15 teams in the Americas region)
Matt Deters (Team Captain), Caitlin Fikac, Natalie Krewin, Molly McDevitt, and Claudia Schnorbus
Americas Winner of the 2016 GOMC Google+ Social Media Marketing Award (Client was the Poricy Park Conservancy, a New Jersey-based non-profit with 250 acres of open space, wildlife and their habitats, prehistoric fossil beds, and the Historic Murray Farmhouse.)
 Alexandra Ender (Team Captain), Rachel Broudy, Annie Delafield, Elka Feinstein, and Laura Hart
Google+ Social Media Marketing Finalist
AdWords Social Impact Finalist (Client was The Campagna Center, the largest non-profit in Alexandria, VA that offers developmental programs for lower income residents in the community.)