News
CIS Program Recognized as ITERA's 2016 Program of the Year
---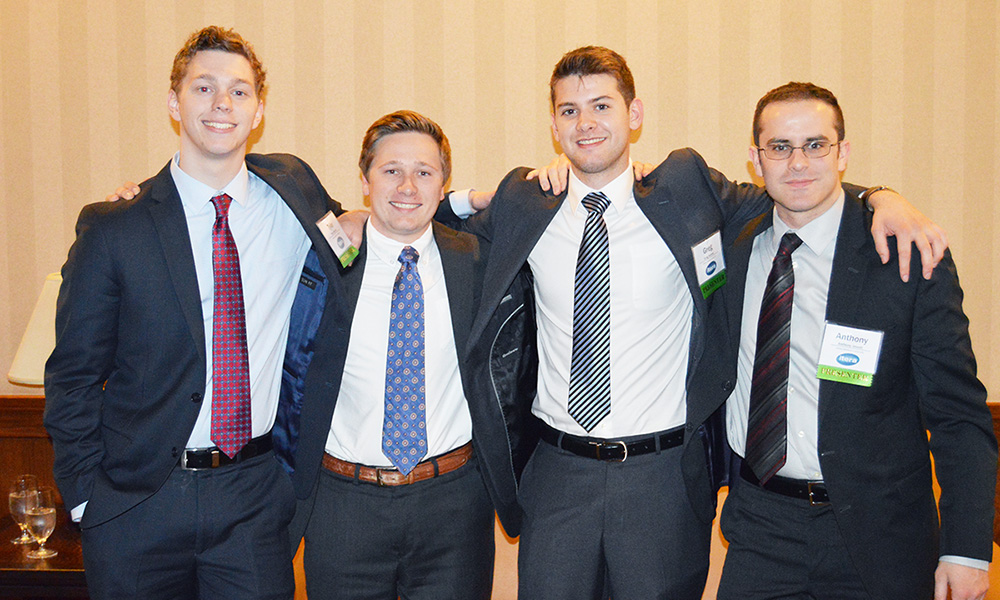 SUMMARY: Student teams compete in the final round of the ITERA Case Study Competition.
---
James Madison University's (JMU) Computer Information Systems (CIS) program has received national recognition as the Information and Telecommunications Education and Research Association (ITERA) 2016 Program of the Year Award. The award was announced during the organization's annual conference, held April 8-10 in Louisville, Ky.
During the conference, a team of senior CIS majors competed in the final round of ITERA's Case Study Competition, facing opponents (many of them graduate students) from Murray State University, Oklahoma University-Tulsa and the University of Pittsburgh. Team members were Andrew Adams, Greg Barton, Anthony Jewett and Tyler Mamrot. Adams and Jewett also are majoring in media arts and design.
The competition engages students in a months-long effort to solve a real-world telecommunications problem by applying their technical and problem-solving skills. During the final round of competition, they presented their case to a panel of judges representing companies such as Cisco, Facebook and Excelacom. JMU professor Harry Reif designed the 2015-2016 case, which centered around protecting a city park, and managed the competition.
"We want our students to develop professionalism, technical acumen and to be able to demonstrate those qualities in real-world scenarios--that's invaluable for our students," Reif says. "The case study competition reinforces these qualities. It's like the frosting on the cake. They learn these things in class and then have the opportunity to demonstrate them in front of industry experts. That makes them competitive in the job market."
For Andrew Adams, who also presented a paper on Google Cars, the conference and competition presented an opportunity to network with industry leaders while learning about emerging technologies and the latest advances in the field. Adams says the coursework in JMU's CIS program and throughout the College of Business helped him develop skills that were critical for the Case Study Competition, from working in teams and project management to financial projection, budget preparation and proposal development.
"The CIS program has prepared us well," Adams says. "We stacked up evenly against these other students in the competition--many who are graduate students and professionals in the field. That speaks to the quality of the undergraduate program here at JMU."
Published: Monday, April 25, 2016
Last Updated: Thursday, January 4, 2018