News
Students from JMU and Bridgewater Collaborate in HR Case Competition
---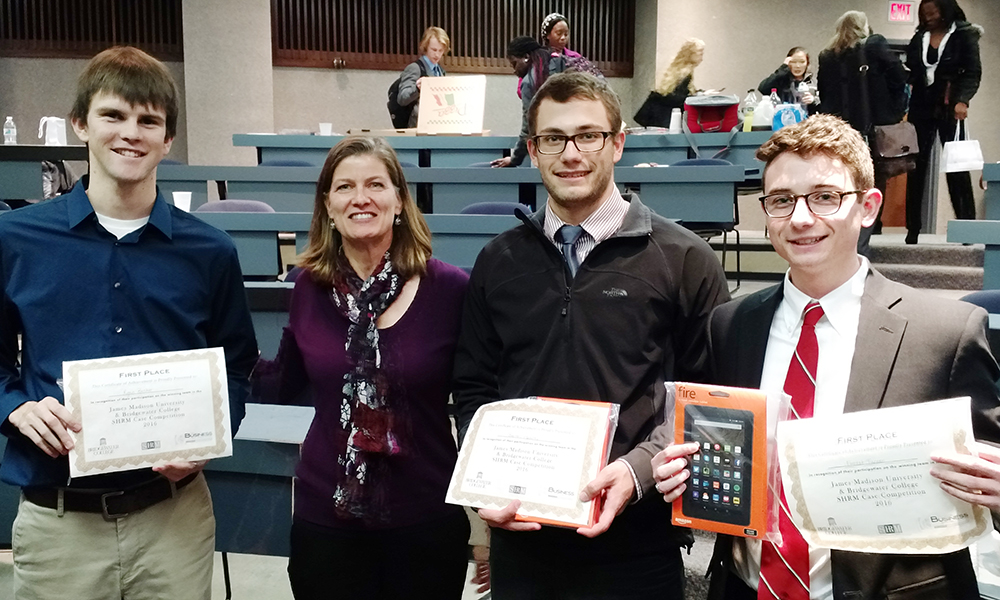 By Matthew D'Angelo
On Friday, Feb. 5, College of Business (CoB) and Bridgewater College (BC) management students participated in an Human Resources Case Competition at James Madison University. The competition, organized by JMU faculty member Dr. Laura Leduc, called for collaboration between both schools as multiple teams presented in front of a board of judges for a chance to win a Kindle.  
"I feel like it was a good experience," said Jacob Conley, a JMU management major. "I'm a senior and it's something Dr. Leduc was passionate about and I wanted to be a part of it. Maybe in the future we can compete regionally."
The students involved met two weeks prior to the competition to strategize about their solutions. After their meeting, students from both schools worked closely with one another up until the date of the competition. This kind of collaboration between both colleges is reflective of the kind of experience the CoB hopes to provide its students.
Conley's experience is one that he believes will prepare him well for what his future holds.
"All of these case competitions are great because they provide critical thinking skills," said Conley. "We're given a problem, and we have to find a solution. I think that critical thinking skills will translate well into the business world."
Conley went on to say that while this competition provided students with valuable career experience, it also served as a good opportunity for the management program, which hopes to compete in the SHRM competition next year.