News
Experiential Learning Pays Big Dividends
Experiential Learning Pays Big Dividends
---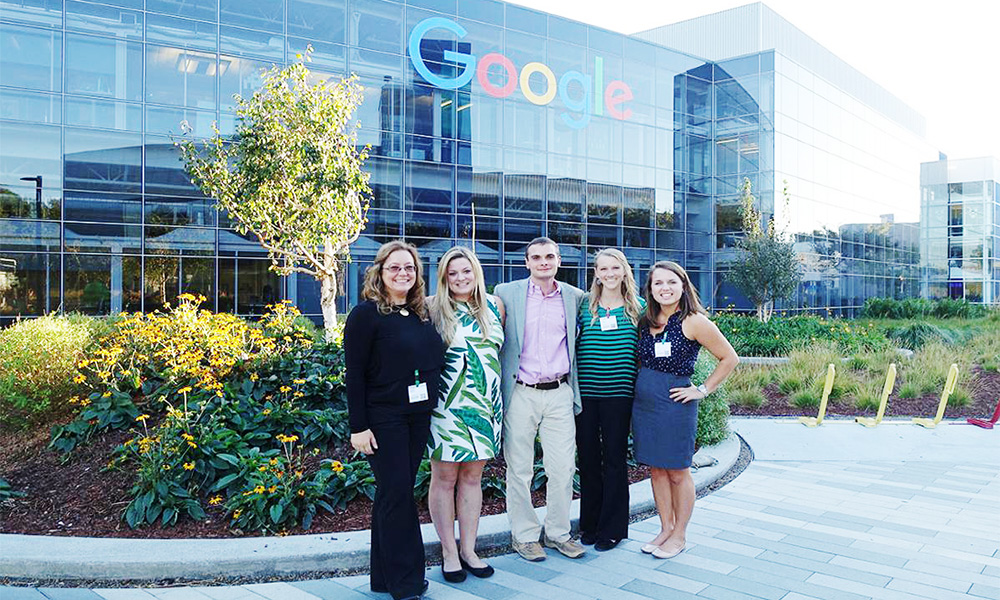 The College of Business (CoB) extends congratulations to JMU's winning team in the 2015 Google Online Marketing Challenge. The team consisted of Lauren Crain, Dan Froehlich, Brea Zeise, and Morgan Mackenzie Moore. The CoB continues to hold more titles in this area than any other school in the world. For the fourth time since the competition's inception in 2008, the CoB hosted a team that won the AdWords Business Award in the Americas region. Because of this latest win in the Social Impact category, Google will donate $10,000 to the local Calvert Marine Museum, who acted as the team's client this year. The museum is dedicated to the collection, preservation and research of culture/natural history of Southern Maryland. While our students prepare to make the difference in their careers, they continue to positively impact the community.
Participation in this competition is required in Dr. Theresa Clarke's MKTG 477: Internet Marketing Practicum course as experiential learning is a core objective of the curriculum. The class also requires students to become AdWords certified since this and other course skills covered are in extremely high demand in the marketplace. But most importantly, this challenge led students to discovering their passions.
Brea Zeise felt that the class was a "fantastic simulation of how things work in the real world." She also learned about "the importance of strategy and understanding [the] client and target market." Lauren Crain felt similarly, and enjoyed the hands-on experience with "account management, working with clients, budget management [and] data analysis."
Dan Froehlich now works in Paid Search with Merkle|RKG. Although he had previous paid search experience, the competition "helped [him] gain a more pronounced appreciation for digital marketing." Morgan Mackenzie Moore, a PPC Associate Analyst for Workshop Digital, attributes her career success to her experience with Google. The challenge gave her "a chance to see if the Digital Marketing industry was a good fit," and it clearly was.
Clarke and the winning team won a trip to the Googleplex in Mountain View, Ca. in October, making this trip the sixth time that a team from JMU was invited to Google. Clarke said she "always enjoys watching students experience what such a big company has to offer." The team's itinerary included a tour of the campus, an insight into company culture and meeting with JMU alumni who work at Google.
Although the 2015 Google Online Marketing Challenge is over, the experience continues to be invaluable for the students. From implementing marketing knowledge to appreciating the significance of their work, Clarke's students excelled both academically and in their resulting careers. The winners made a difference for the local Calvert Marine Museum and are continuing to make the difference in their post-graduate lives.
---
Published: Wednesday, November 11, 2015
Last Updated: Thursday, October 20, 2016