News
JMU Marketing Students Earn Seven Awards
in Marketing EDGE Collegiate ECHO Challenge by DIRECTV
---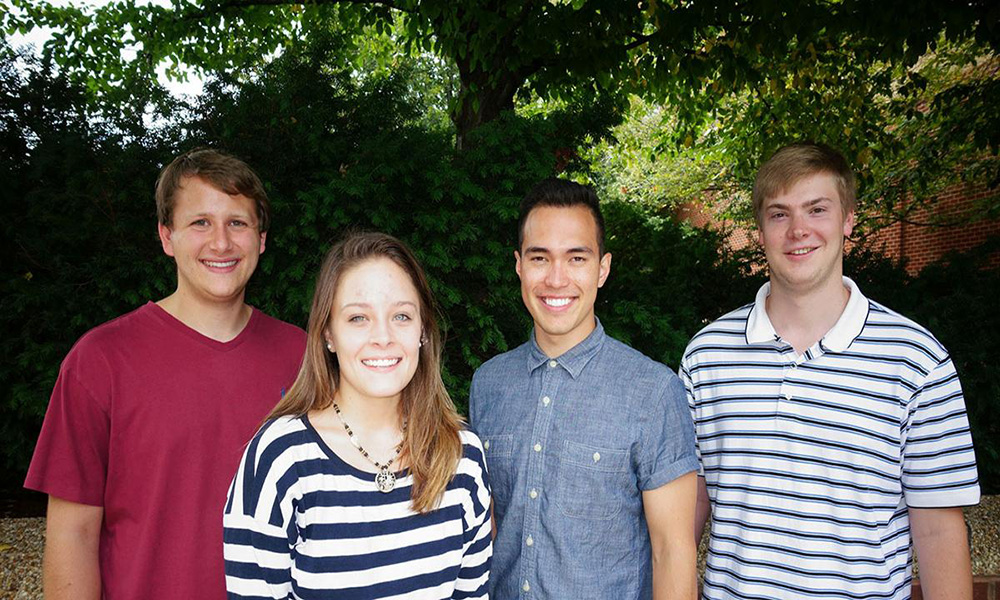 Throughout the spring semester, students in Dr. Theresa Clarke's MKTG 384: Integrated Marketing Communications course experienced one of our College of Business (CoB) values: engaged learning. Students not only focused their attention on classroom learning about marketing strategy, consumer behavior, objective setting, media planning, budgeting, forecasting and the promotional mix, but also prepared for the Marketing EDGE Collegiate ECHO Challenge, which in 2014-2015 involved creating an integrated campaign for DIRECTV.
Among the 200+ teams that competed from around the nation, seven JMU teams brought home awards in the 2014-15 challenge. The team of John Bassford, Alex Dixon, Kevin Harmon and Kelsey Hinkle captured the 3rd Place Bronze Award. Six other student teams from the (CoB) will also receive awards in recognition of their "honorable mentions" in other ECHO Challenge categories, such as Creative Strategy, Marketing Strategy and Market Research.
"The students exceeded my expectations and I am very pleased with their performance," said Clarke. "Even among the teams that didn't place, we had many strong and creative plans from JMU."
Marketing EDGE is a non-profit organization which aims to "Educate, Develop, Grow, and Employ college students in the field of marketing." At the competition, the teams had to conduct an industry analysis, create an integrated marketing communications strategy, consider relevant and effective media platforms, allocate a budget, develop a presentation for a perspective client and produce a video ad. The students' goal was to successfully market the DIRECTV "Refer a Friend" program to customers while staying within a budget of $1 million.
The remaining six teams will receive Honorable Mentions for major components of their integrated marketing communication plans and excellence on specific components of their marketing report. The third place winners will be given a $500 prize and because of the CoB's overall success at the competition, JMU will be presented with a trophy and a $1,000 scholarship for marketing study which can be applied at its discretion. 
JMU and the College of Business have continued to develop their relationship with Marketing EDGE over the past few years due to communication efforts by Career & Academic Planning's Denise Rudolph and Emma Maynard and the College of Business' Clarke.
"This [relationship with Marketing EDGE] has provided a platform for our students and JMU to be highlighted in order for their talents to continue to be recognized not only by those potential employers in NYC and national markets which are of interest to our students, but also on a much broader scale," said Rudolph. "Ultimately, these connections have provided our students with valuable learning opportunities and will most surely open doors for them that may not otherwise have been as wide open."
Clarke's students will be competing again next year where they will be marketing the Facebook Custom Audiences product. Clarke's MKTG 384 course will ready students to compete, but the course will change slightly to prepare students to market a challenging new product.
"The major course change will entail learning activities that help students understand how to increase awareness and consideration among marketing decision makers as the primary target audience," said Clarke.