News
Internet Marketing Classes Advise Local Clients
---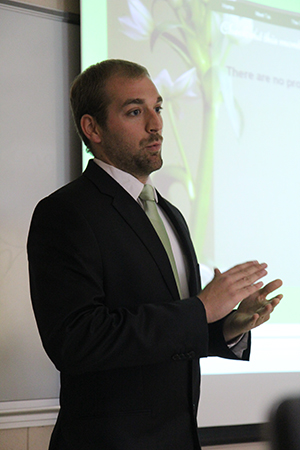 Two Internet Marketing classes spent the semester researching the marketing outreach efforts of two local clients, Refreshing Effects and Jon Boyz BBQ Shack.
Refreshing Effects is a massage therapy company, while Jon Boyz is a BBQ restaurant. The students presented their results during the last week of classes. Pictured at left is student Alex Adley.
Both clients were impressed with the research, thought, and creativity that the students shared. Some of the suggestions for Refreshing Effects included developing pay per click online ads, as well as a new logo and mission statement. Suggestions for Jon Boyz included developing social media loyalty programs for customers and capitalizing on the cartoon logo.
Professor Eric Van Steenburg says, "The Internet Marketing students dove right into these projects. By working with real clients on real problems, they were able to learn much more about marketing than they would have in only a classroom setting. These students are poised for great things, thanks to their experiences in the College of Business."
Opportunities for experiential, real life learning continue to be a hallmark of the College of Business. Students relish the chance to work with clients, and help them solve everyday challenges.
Click here for pictures.
Published: Friday, May 1, 2015
Last Updated: Thursday, October 20, 2016