News
Deloitte's Jim Hagy Visits Management Classes
---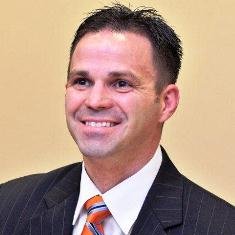 In an effort to give students real-life experiences that will prepare them for their futures, the College of Business is continuing to build a strong relationship with Deloitte. Jim Hagy from Deloitte gave presentations in two sections of Dr. Fariss Mousa's COB 487: Strategic Management and one section of MGT 420: Management of Technology and Innovation on April 7. As the leader of Deloitte's Department of Defense Human Capital practice, Hagy has extensive experience in organizational change, human capital, leadership, and analytics.
Hagy focused on using real-life examples and interactive exercises to teach the students about innovation and organizational structure. He shared with the students a number of current situations that he and his teams are currently facing and discussed different approaches to managing and thinking through these different circumstances. Hagy also led class discussions that gave the students an opportunity to join in on conversations about how industry professionals might want to approach dealing with these challenges in the best way.
Hagy concluded his day with discussions with CoB leaders about further partnerships with Deloitte and the CoB.
"I am very pleased to be able to continue to build on our relationship with Deloitte, and I am very thankful to the professionals who keep working so hard to fit our students into their busy schedules" said Mousa.
The CoB would like to extend its deepest gratitude to Hagy for devoting so much time to work with our students on a number of topics and some of the opportunities facing these corporations and  providing them with an insider's look into real-life management challenges.
Published: Monday, April 27, 2015
Last Updated: Thursday, October 20, 2016