News
Beta Alpha Psi Scores Big in Recent Competition
---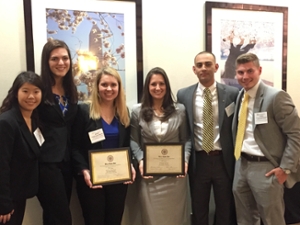 Beta Alpha Psi students scored well in the recent 2015 Best Practices Competition, with two teams coming in second. Held on March 21st in Alexandria, Va., the competition focused on topics concerning Financial Literacy and Effective Operations.
Advisor Dr. Sandy Cereola says, "I am proud to say that BOTH teams placed 2nd in their respective categories. The Financial Literacy team placed 2nd out of 11 teams competing and the Effective Operations team placed 2nd out of 14 teams competing."
The Financial Literacy team of Chris DiGangi, Ameer Hasan, and Brittney Jacks created a "financial literacy" speaker series covering topics related to budgeting, retirement, mortgages, taxes and insurance and opened it up to the entire JMU community. There were many freshman representing majors from across the university who attended and many events were so packed that there was standing room only.
Additionally, the team went to Harrisonburg High School and spent two days with close to 100 seniors discussing financial literacy. Seniors were taught how to balance a checkbook and then were given the opportunity to participate in a "Bank Reconciliation Case Competition." The event was well received by the students and the teachers and we were excited to hear that they wanted us to come back again and participate in similar learning events.
The Effective Operations team, consisting of Andrea Hufnagel, AshbyRose Nelson, and Elsie Poon worked to document what makes each BAP chapter unique in terms of running its operations. This team created an "Officer Training Manual" that can be used by all future incoming executive board members. The judges for this competition were impressed with the group's creative presentation and their incorporation of a professional video of interviews of the BAP executive board.
Cereola adds, "Eileen Shifflett and I are so proud to work with such a talented group of students. For those of you who competed, thank you for your participation in the best practices competition.  Your hard work and dedication paid off! We are proud to have you as part of our BAP team; you represent JMU well!"
Pictured at left are Poon, Hufnagel, Nelson, Jacks, Hasan, and DiGangi.
Published: Tuesday, April 21, 2015
Last Updated: Thursday, October 20, 2016