News
MMA Named in the Top 15 out of 400
---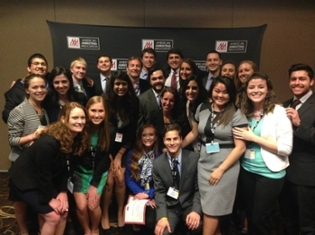 The Madison Marketing Association (MMA) was proud to take home the bronze in the chapter competition at the American Marketing Association's (AMA) National Conference. Held the weekend of March 18, 2015, in New Orleans, the conference attracted 400 international chapters. The MMA excelled in all six of the judged areas, propelling the chapter to the ranks of the top 15.  
Areas included in the judging were professional development, fundraising, community service, communications, finance, and chapter operations and annual report.
Though the MMA hosts multiple events every year, its largest event is the annual networking banquet. In fall 2014, the chapter raised $3,000 in sponsorships during the banquet, which included a career fair featuring 12 representatives from seven different companies.
MMA members have also participated in blood drives and 5K runs, as well as volunteered at local soup kitchens and retirement communities.
As a long time participant in the AMA National Conferences, the MMA has consistently placed in the top chapters.
MMA faculty adviser, Robert McMillen, attributes its success to the members: "Not only do they do a great job in their current year, but they do a great job in planning for the future and bringing new people on board."
The organization is open to students from all majors and promises to populate MMA events with a variety of speakers.
"It's cool to have different majors [in MMA] because it's not just only marketing, but it's how to market yourself," said MMA president Katie Beveridge. "I think that's helpful in any major that you're in."
Beveridge is currently reviewing applications for next year's MMA members and board members, but she will remain president of MMA until she graduates in May 2016. 
Published: Monday, April 13, 2015
Last Updated: Thursday, October 20, 2016