News
Law Students Participate in Mock Trial
---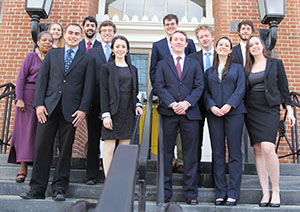 The "jury" found the "defendant" guilty on all three counts in a recent mock trial at the federal courthouse in Harrisonburg. Pictured left, students from Daphyne Thomas's honor section of Legal Environment of Business faced off against the seniors in David Parker's White Collar Crime class on March 26, pictured below.
The defendant was accused of credit card theft, fraud, and possession of stolen goods. Students role played the various functions, including prosecuting and defense attorneys, jurors, witnesses, and the accused. In the end, Parker's prosecuting attorneys swayed the jury, which found the defendant guilty on all counts.
The Honorable Federal Judge James Welsh generously volunteered his time to judge the proceedings, offering sage advice to the students along the way. This event marked the first time ever that a mock trial was held in the federal court in Harrisonburg.
Welsh advised the students to "learn how to reason logically and effectively, and present your arguments clearly." He added, "I craft simple questions and I would like simple, clear answers."
Both Thomas and Parker felt the experience was very valuable to the students. Thomas says, "We were privileged to be able to offer this incredible learning opportunity for our students. Judge Welsh gave them excellent advice and pointers during the mock trial. We truly appreciate his help and support."
Parker adds, "This event gave our students a rare glimpse of what actually happens in a courtroom. They will use the lessons learned to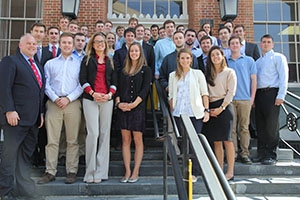 hone their persuasion and critical thinking skills for future success in business."
Hayley Sunderman, a student in the honors section of Legal Environment of Business, and an attorney for the defendant, says, "Judges can be intimidating. However Judge Welsh really helped me to understand the importance of asking the right questions and asking those questions in the correct format. As a sophomore, I am confident that those skills will be used again and again while I am studying business at James Madison University."
Published: Thursday, April 2, 2015
Last Updated: Thursday, October 20, 2016