News
Cyber Day Welcomes Grade School Students from Richmond
---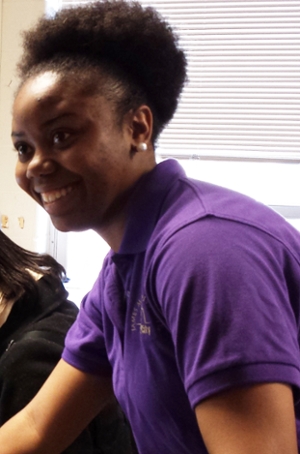 Computer Information Systems majors Brittni Langston, Hector Santos, and Chaimae Haronni spent the mornings of March 24 and April 16 doing more than just taking classes. Between listening to lectures on Java and mobile applications they all had an additional job to do.  It was their responsibility to teach visiting middle and high school students from Richmond, Va., and Shenandoah County, Va., how to create a mobile phone application as part of the CyberDay program.
"I think CyberDay opens up many options for students," said Haronni. "Many of them learn that they love computers or maybe even like the idea of programming."
The mobile phone application would allow the visiting students to play a "ball bounce" game. The task required the student volunteers to learn the software, install software in the computer lab, prepare the lesson plans, provide guidance to the other JMU students who volunteered to be helpers, and to teach the lesson to the students.
"Of course they did a great job," remarked Dr. Tom Dillon, a professor in the Computer Information Systems and Business Analytics Department. "This is our third CyberDay and our students are always well prepared to share what they know and to try and encourage more young people into the field."
The CyberDay program is a collaboration between the College of Business (CoB) and the JMU Office of Admissions.
"Our goal for a CyberDay is to attract a more diverse group of student to JMU," said Dr. Daphyne Thomas, the Coors Professor of Business who teaches Business Law. "We combine a day of learning about JMU and the College of Business, and doing fun learning activities in our computer labs. By using JMU students to teach the classes we allow our own college students to grow personally and to become role models for the visiting middle and high school students."
Dr. Harry Reif, who serves as a CyberCity co-director with Dillon and Thomas agreed with Thomas' statement, "The JMU mission has always been to educate leaders. These students exemplify that mission by not only being leaders in their academic studies, but also by leading these visiting young people to promising technology careers."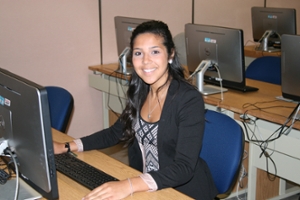 The CyberDay program is a continuation of the award winning CyberCity summer program that began eight years ago to encourage higher enrollments and to increase the diversity of students into Science, Technology, Engineering, and Math (STEM) majors.
"The program's success can be attributed to the large number of volunteers from both the faculty and student body," said Dr. Rick Mathieu, an Associate Dean in the CoB who was present for the welcome ceremony.
Other faculty volunteers who were a part of the CyberDay program were Ms. Christine Harriger, the Assistant Director of the CoB Academic Services Center and Dr. John Guo, an Assistant Professor of Computer Information Systems. CoB students who acted as tutors, guides, or assistants were Melissa Carpenter, Lisa Huynh, Chaimae Haronni, Theo Daubresse, and Latasha Williams.
Published: Tuesday, March 24, 2015
Last Updated: Thursday, October 20, 2016