News
Alice M. Rivlin Shares Her Insights on Health Care in America
---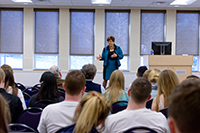 Health and health care were the focus of Alice Rivlin's March 16 presentation, which was part of the JIN Lecture in Political Economy series. Rivlin, of the Brookings Institution and Georgetown University in Washington, recently spoke on "Health and Health Care: Can We Improve on Both at Sustainable Cost?" Professor of Economics Barkley Rosser arranged the visit with Rivlin, and shared many of her accomplishments during his introduction of her. Rosser noted that Rivlin is one of the leading advisers to policymakers on this important topic. She founded the Congressional Budget Office 40 years ago, and served as the first Director. She served as Director of the Office of Management and Budget, and also served as Vice Chair of the Board of Governors of the Federal Reserve System.
Rivlin talked about the high cost of health care in this country, noting that 18 percent of everything we produce is spent on health care, compared to 6 percent in the 1960s. She added that the cost of health care per person is rising faster than the cost of anything else. "As you look ahead, you can only be nervous," she says.
Rivlin explained why health care is so expensive in the United States. She noted that most advanced countries in Western Europe spend about 12 percent on health care, and they are generally healthier. Other countries are leaner; the citizens exercise more; they don't tolerate poverty.
Americans tend to go to specialists more often than other cultures. Rivlin says, "Our complex health systems run up high administrative costs."
She asks, "What if we can't rein in cost of health care – why should we care?"
Rivlin believes we should care because spending too much money on health care takes away from other parts of society, such as investing in our future workforce and our infrastructure.
Rivlin left the audience with three tips on creating a healthier America:
Focus on early childhood education
Focus on healthier communities
Encourage health professionals to more proactively focus on good health
She noted that the Affordable Care Act allows consumers to compare health plans, saying "Competition, when well managed, does work." The bottom line, according to Rivlin, is that health and health care issues are solvable problems.
Click here to view the presentation.
Published: Thursday, March 19, 2015
Last Updated: Thursday, October 20, 2016