News
CIS 484 Holds Final Presentations
---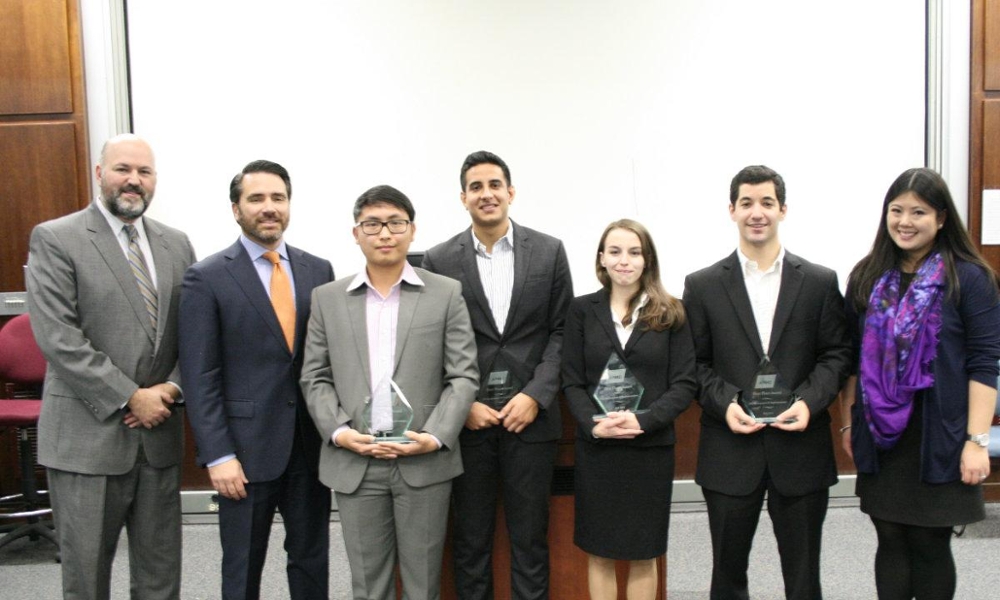 On Saturday, December 6, over 150 Computer Information Systems students, multiple faculty members, and three representatives from KPMG attended the CIS 484 (Information Systems Development and Implementation) Final Presentations.
Throughout the semester Professor Carey Cole has challenged his students to prepare them for their future careers. The final task was an extensive, hands-on final comprehensive group capstone project.
The final project was to create a Recruiting System for KPMG, with assistance from KPMG's JMU Campus Development Manager Renee Tran. Students met with Tran over the course of their project and received specific information about required functions for the Recruiting Systems. Cole, with input from Tran, chose the top two teams to present to the judging panel, which included CIS & BSAN professors (Mike Mitri, Jeff May, Tom Dillon, John Guo, and Rebecca Simmons) and three KPMG representatives (Renee Tran, Phil Bennett, and Ray Ruiz).
"I was really excited that Professor Cole chose KPMG," said Tran. "It's such a unique class…that is so focused on real world experience."
Before the presentations began, Dr. Mike Mitri addressed the crowd and explained that there is one major thing that separated JMU's CIS students from other CIS students - "cred." He went on to explain that JMU's CIS students talk the talk and walk the walk.
The first team included Devin Patel, Linh Nguyen, Cassie Boylan, and Evan Clough and the second team included Andrew Webster, Andrew Novak, and Travis Lawrence. Both teams  presented their systems and answered questions from the judges.
Tran attributes the winning team's success as "[coming] down to their presentation." She also explained how she focused on two things, whether the system worked and the professionalism that the students displayed in the client meetings that she conducted with the students.
The winning team was presented with individual trophies and gift certificates from KPMG. Cole then gave an overview of next semester's project, which will be bilingual and will include approximately 30 teams compared to this semester's 8 teams.
He added, "Every semester I try to make this class better. And for those who know me, that means…" and the crowd responded with "harder."
Cole and KPMG are excited to work together again next semester and to continue to provide hands-on, real-world opportunities for the students in CIS 484.
Published: Monday, December 15, 2014
Last Updated: Tuesday, August 9, 2016