News
CoB Marketing Students Fare Well in First Ever Appearance at NSC
---
The JMU sales team of Kaitlyn Blair and John Ricketti were among the top ten teams at the Eighth Annual National Sales Challenge (NSC), earning a very respectable sixth place.
These students represented JMU during the November 19-21 competition, which was sponsored by the Russ Berrie Institute at William Paterson University in Wayne, N.J.  The Sales Challenge consists of three role play rounds and a speed selling competition.  The three-day event brought together more than 120 professional sales students from 40 schools around the country, as well as two schools from the Netherlands and Scotland.
The student competitors not only competed against each other, but also had the opportunity to network with 80 business executives from 15 companies including ADP, Hewlett-Packard, UPS, Johnson & Johnson, DHL, Laird Plastics, and Tom James Company. The executives were on hand to serve as buyers and judges for the competition, as well as recruit and network with top student talent.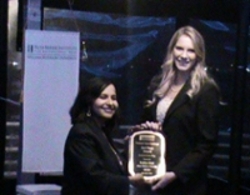 JMU participated in the NSC for the first time this year. Senior marketing majors Blair and Ricketti both advanced to the second round (one of only 12 teams with both students to advance) with Blair placing 3rd in the first round referral role play and 10th in the role play competition.  (Pictured at right, Dr. Sudha Mani from William Paterson University presents Blair the third place award)  The JMU duo placed 6th in the overall team competition -- ahead of many teams from nationally recognized sales programs.
In addition to the competition experience and exposure to corporate executives, the awards ceremony held on a dinner-cruise boat in New York harbor in front of the Statue of Liberty capped the experience.
Blair says, "This entire experience was so rewarding. The competition provided the opportunity to network with professionals from impressive companies as well as top students from other universities. The awards were given out during the cruise on the Hudson River over a wonderful dinner. We floated near the Statue of Liberty, which I had never seen that close. It was the perfect way to close out the competition."
Director of the Center for Professional Sales Dr. Joe Derby coached the team at the event and Marketing Department Head Dr. Andy Wood helped prep the team. Professor Steve Hertzenberg also coached the students in JMU's first advanced selling class in Spring 2014.
Derby states, "We are off to a great start with our new sales program and Center for Professional Sales.  A combination of professors working one-on-one with students is proving to be extremely powerful, especially with first-rate marketing students like Kaitlyn and John eager to put in the time and work necessary to compete at the highest level."
Published: Wednesday, December 3, 2014
Last Updated: Wednesday, June 8, 2016