College of Business
Kevin Dunbar Kicks Off C-Suite Speaker Series
---
"Communicatio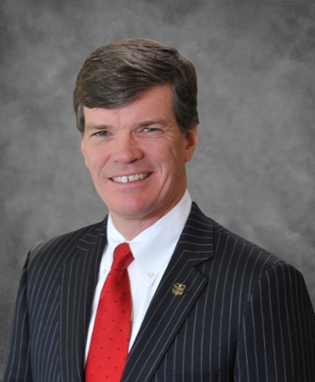 n and the ability to establish relationships with others are key to obtaining and retaining business," says Kevin Dunbar, CEO of Dunbar Armored.
Dunbar, inaugural speaker in the CoB C-Suite Speakers Series, presented an overview of Entrepreneurship, Innovation, and Leadership at his company.
Dunbar first shared with the audience a short history of Dunbar Armored, headquartered in Hunt Valley, Md. The company started in 1923, and employs 5,200 people. Dunbar Armored has grown significantly over the years, acquiring 22 other companies over a 20-year period. Cyber security and asset tracking capabilities have been added over time. In fact, the company will top $300 million in sales for the first time this year.
Dunbar Armored is known for its innovative approach to challenges; this willingness to be flexible and nimble sets it apart from competitors. For example, in 2009, Dunbar Armored was the first to design wireless in-house smart safes. Another recent innovation is inclusion of GPS systems on high liability trucks, so a truck cannot be opened if it is at the wrong location. He says, "Dunbar is a nimble organization, willing to invest in new technologies sooner than its competitors."
Dunbar says, "Entrepreneurship, innovation, and leadership begin with a vision. An important part of my job is to be the chief visionary and chief learner. I am like the conductor of an orchestra; I lead a symphony." Dunbar believes a successful leader leads by communicating clearly, with a defined vision of goals and objectives. A good leader encourages the team to take an entrepreneurial approach, empowers people to take advantage of new opportunities, and recognizes and rewards achievement.
Dean Mary Gowan says, "Kevin's wisdom and insight provided important lessons for our students about how to create and lead a successful company." 
Dunbar is a 1980 graduate of the College of Business. He remembers, "JMU was a great experience for me in my teens and early 20's which left me with great memories and great friends. The inclusiveness, how you feel when you're here, existed when I was here and it's still here so that everybody can experience that. There's a good mission and a good culture."
He adds, "I have the motto 'making a difference' on my desk; seeing that motivates me. I had various experiences at JMU that have shown me the importance of giving back when you're able to make a difference. Growing an organization, a business is a way of making a difference. You can give back through those actions."
Click here to view presentation.
Published: Monday, November 24, 2014
Last Updated: Tuesday, November 8, 2016