News
JMU Teams Earn Top Honors in 2014 Google Online Marketing Challenge
---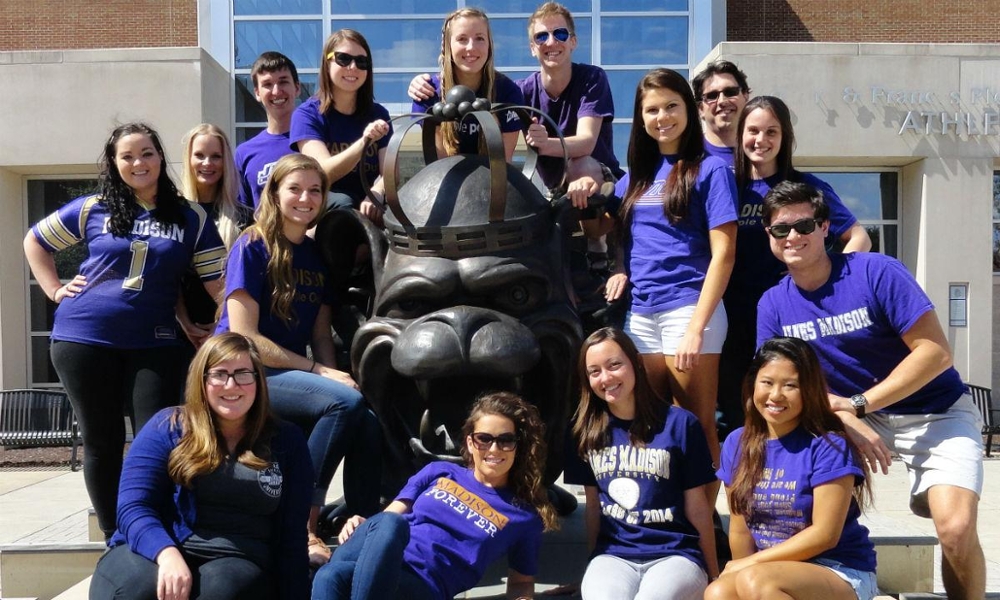 SUMMARY: The third time is usually a charm, but for Theresa Clarke's students the seventh time is the ultimate charm in this year's Google Online Marketing Challenge
---
The third time is usually a charm, but for Theresa Clarke's students the seventh time is the ultimate charm in this year's Google Online Marketing Challenge.  The Challenge is a unique educational opportunity for students to experience and create online marketing campaigns for real clients using Google AdWords, Google Analytics, and Google+. Thousands of students and professors from almost 100 countries have participated in the past seven years.  Although James Madison University earned six titles in previous Challenges, such as Americas Regional Business Winner, Global Social Impact Winner, and Global Social Media Winner, 2014 was its most victorious year. 
For starters, one JMU team earned the highest possible honor in this worldwide marketing competition – Global Winner!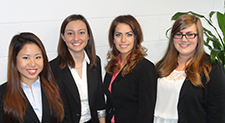 Ashleigh Rojanavongse, Rachel Lam, Lauren Hale, and Kaci Lassiter were named AdWords Business Global Co-Winner which means they were a top team in the world out of 2,540 teams. They also were named the Social Impact Award 3rd Place Co-Winner because of their work with a non-profit organization. The 3rd place social impact award includes a $5,000 donation for their client, Richmond-based FETCH a Cure, a nonprofit designed to provide pet owners greater access to information about pet cancer, senior care, and treatment options.
CoB Dean Mary Gowan says, "This recognition is a tribute to both our outstanding students and Dr. Clarke.  Under Dr. Clarke's leadership, our teams have always placed well in the Google competition since the first team entered in 2008.  And, we are very excited that several of our teams won significant cash prizes for nonprofit organizations, supporting our goals at JMU for engaged learning and community engagement."
But the AdWords Business Global Award and Social Impact awards were not the only victories from JMU this year.  According to Clarke, "Through the Challenge, our students brought significant marketing and financial contributions to worthy nonprofit organizations in our community.  They made a positive difference for their clients by furthering their online marketing programs and then collectively winning $20,000 in nonprofit support from Google." 
And the other winners from JMU…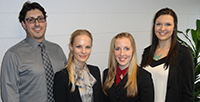 Pictured left, James Carter, Monika Kelpsaite, Carly Calhoon, and Aly Wilkins were named AdWords Business Semi-Finalist & Social Impact Award 2nd Place Co-Winner, earning $10,000 for Cat's Cradle, a nonprofit organization in Harrisonburg, Va., that is dedicated to ensuring and maintaining a safe, compassionate community for cats and dogs.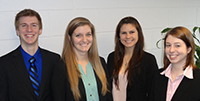 Pictured right, Rory Salzberger, Kelly Pollhammer, Melissa Kniceley, and Hannah Johnson were named AdWords Business Semi-Finalist & Social Impact Award 3rd Place Co-Winner, earning a $5,000 charitable donation for Shooting Touch, an organization based in Boston that is focused on harnessing the power of basketball to improve the lives of youth in the areas of health, education, and character around the world.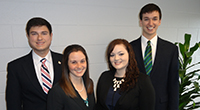 Pictured left, Jonny Thompson, Melissa Jackson, Samantha Huff, and Jordan Epler were named an AdWords Social Impact Finalist for their work with Still Meadows Enrichment Center and Camp in Linville, Va. This nonprofit camp was created as a special needs facility in a country setting providing year-round therapeutic activities for children and adults with developmental and/or physical disabilities.
So why was JMU so successful in the 2014 Google Challenge?  Clarke says "I strongly believe the success was a function of their drive and their heart. All of the students worked incredibly hard to meet their client's internet marketing objectives.  For example, after my three-hour Friday afternoon classes ended, the students often wanted to continue working for two to three extra hours into the evening.  They were absolutely determined to master the online marketing tools, develop clear strategic plans, network with guest speakers, construct creative campaigns, and deliver value to their clients.  I was so impressed with their professionalism and desire to help their nonprofits succeed in the highly competitive world of internet marketing strategy.  It was an honor to work with such determined and service-oriented students."
These sentiments are echoed from the student perspective…
Nothing in my academic career can even come close to how well the GOMC prepared me for a real job in the digital marketing world. Being named as Global AdWords Business Winner and 3rd Place AdWords Social Impact Winner is really secondary to all the invaluable skills I gained from the GOMC experience. My most important takeaways were the lessons in client service, teamwork, and AdWords knowledge, all of which I now use every single day at my job at RKG, a Merkle Company. I am so grateful to our professor, Dr. Theresa Clarke, for her selfless dedication and never-ending support throughout the entire Challenge. It was a crazy, fun ride with many obstacles, but it was totally worth it all in the end! Rachel Lam, FETCH a Cure Team Member, SEO Specialist at RKG, a Merkle Company 
The Google Online Marketing Challenge at JMU is a one-of-a-kind class that I was fortunate enough to have participated in and experienced.  While gaining 'real-life' experience in developing and managing an online marketing campaign for a client, I also gained a supportive network of past and present JMU alums who also participated in the Challenge.  The lessons taught and learned both inside and outside the classroom were invaluable. This has been such an amazing opportunity for my team and me, and I am so happy to see that all of our hard work and efforts have certainly paid off.  I am extremely grateful to Dr. Clarke for everything she has taught me and the relentless support and care she has shown to her students throughout this entire experience.  This achievement acts as a great ending to my undergraduate college career and I am so proud to be able to represent JMU. I hope to continue the JMU tradition of giving back by serving as a mentor to future JMU GOMC-ers to come!   Ashleigh Rojanavongse, FETCH a Cure Team, Manager at Professional Landcare Network
The Google Online Marketing Challenge has opened the door to a world of possibilities and opportunities. We were able to engage with the local Harrisonburg community and help a deserving nonprofit, Cat's Cradle, gain exposure and donations. Never in our wildest dreams would we have guessed the overwhelming support and engagement for Cat's Cradle through Google's social media platform, G+. We were even more surprised when a G+ follower, who had no prior connection to Cat's Cradle, made a financial donation. The work we did in AdWords and G+ was engaged learning combined with real world practice. We experienced many challenges while learning there are no set right/wrong answers in online marketing. Dr. Clarke provided endless support and encouragement, and was there for us whenever we needed guidance. I highly recommend this class to any student who is willing to work hard, wants to gain invaluable skills, and is up for the challenge!  Carly Calhoon, Cat's Cradle Team, PPC Account Manager at Silverback Strategies
Participating in the Google Challenge has provided me with an understanding of the awesome power of technology and marketing combined. The ideal of marketing is to align to the needs of the customer in a way that benefits both parties, and with ever-improving technology, we are closer and closer to this balance. With the experience provided from both the challenge and Dr. Clarke's hands-on style classes, I am prepared to immediately make a name and an impact in the industry. Rory Salzberger, Shooting Touch Team, Business Technology Analyst at Deloitte 
I am so fortunate to have realized early on that I was interested in digital marketing, because that led me to taking the internet marketing class and subsequently the internet marketing practicum under Dr. Clarke's direction. My advice to marketing students who are in the early stages of the marketing program at JMU is to explore all of the options, especially this one, in your time at JMU. If you want to do something different -- something that will teach you more than a textbook ever could -- apply your desire to learn and challenge yourself with MKTG 477 where you can participate in the Google Online Marketing Challenge. You'll be pleasantly surprised with the confidence you gain in your ability to present yourself as a young marketing professional. The experience and skills you gain from this are indispensable, and the recognition and satisfaction that come from performing well are just icing on the cake.  Kelly Pollhammer, Shooting Touch Team, Account Management Associate at Jellyfish Online Marketing
Working with Still Meadows and crafting an AdWords campaign for them in order to raise awareness about the nonprofit truly made a difference for my team and me.  Not only were we able to accomplish that goal for Still Meadows, but we believed in the camp's mission and all thought the organization stood for a very worthwhile cause.  Melissa Jackson, Still Meadows Enrichment Center and Camp Team, Assistant Search Marketing Specialist at Mullen
The Google Challenge was one of the most integral parts of my professional development during my time at JMU. Dr. Clarke did more than just convey basic knowledge of AdWords; she fostered a passion for digital marketing in our class that many of us have carried into our first careers. Every experience in the competition helped shape who I am in the post-graduate world working as a full time employee in Search Engine Optimization at RKG, a Merkle Company.  I want to thank Brian Forrester of Dynamic Web Solutions for connecting us with our client, FETCH a Cure. Our team effectively worked together and we also formed a strong friendship that contributed to the quality of our reports and campaigns. Many of our late night strategy meetings were filled with laughter, friendly wagers, and conversations about life, which made the whole challenge one of the most rewarding experiences I had at JMU.   Kaci Lassiter, FETCH a Cure Team Member, SEO Specialist at RKG, a Merkle Company 
According to Clarke, "Clearly, the Google Online Marketing Challenge opens many doors for students in terms of networking, career opportunities, and professional development.  I am grateful that Google has developed such a successful and collaborative partnership with academics from around the world.  It is a one-of-a-kind teaching and learning experience."
Congratulations to Dr. Clarke and her trove of talented JMU Marketing students!
WANT TO HELP? If you are interested in becoming involved or in supporting future teams, please contact Department Chair Andy Wood, wood3ja@jmu.edu, 540-568-2332.  If you would like more information about Dr. Clarke's Internet Marketing Practicum course, please visit http://theresabclarke.com/gomc.