News
Marketing Students Win Third Place in Global Marketing Competition
---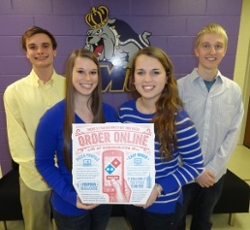 In the spring 2014 semester, students enrolled in the Integrated Marketing Communications course (MKT 384) were asked to create an integrated marketing communications plan and submit it to the Collegiate ECHO Marketing Challenge. 
Integrated Marketing Communications professor Theresa Clarke says, "In the long run, I believe this project helped my students unleash their creative potential and improve their confidence in developing sound marketing strategy. I also believe the project helped some students develop their time management, teamwork, and leadership skills."
Sponsored by a nonprofit organization called Marketing EDGE, the Collegiate ECHO Marketing Challenge is a global competition designed to provide students with an opportunity to work on a multifaceted marketing project for a major corporation. This year, the client was Domino's Pizza.
Using client and consumer data, teams of 3-4 students were asked to create an integrated marketing communication plan that would increase the number of orders placed using Domino's mobile app.
This year, five JMU teams were among the semifinalists and one team won 3rd Place Bronze. The Bronze team consisted of Lauren Crain (team leader), Dan Froehlich, Shawn Misar, and Haley Svadeba. 
Crain says, "The project gave me the real world experience that I have been looking for—we had to look at statistics, conduct research, and become familiar with the brand and the app before we could begin the plan. The project taught me to be creative and it helped me apply what I have been learning in class to develop skills that I will use when I graduate next year." 
The team will split a cash prize of $500 and receive certificates of accomplishment.  Additionally, the JMU Department of Marketing will receive a trophy denoting the team's accomplishment and a $1,000 scholarship grant from Marketing EDGE to award to deserving students interested in marketing. 
"I have always felt that our students are so very talented," says Clarke. "Global competitions such as these help to show the kind of quality marketing students that we have in the JMU College of Business." 
The College of Business congratulates Crain, Froehlich, Misar, and Svadeba on receiving this award, and also wishes to recognize and congratulate the following Semi-Finalist Winners:
Patrick Cusamano, Jack Crowder, Marissa DeMilio, Lucas Falzetti, Nicole Gombos, Lindsay Jacobs, Oeuyowan Kim, Louise Lehmuller, Chase Murray, Ashley Musumeci, Mike Pazirandeh, Eric Pritchett, Patrick Shamburger, Austin Shifflett, and Jenna Ward.
Published: Tuesday, July 29, 2014
Last Updated: Tuesday, November 8, 2016