News
CyberCity Gives Students Fresh Perspective on College
---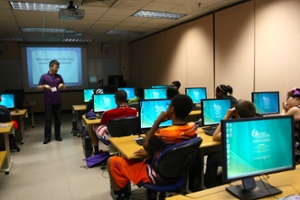 James Madison University hosted its eighth annual CyberCity, an event that allows underrepresented middle and high school students to explore cutting-edge technology and experience all that college has to offer.
Invited students arrived on June 18 ready to experience JMU and meet new people. One student remarked, "I am excited to learn about technology from college professors and make friends with my roommates in the dorm."   
JMU President Jon Alger gave opening remarks, welcoming the students and sharing his advice on what it takes to be a leader. "Leadership comes in all different shapes, sizes, and personality types—and that's okay," Alger said. "The best advice I ever got in my career is to be authentic. If people can see you are being true to who you are, they will respect you. Everyone in this room has the capacity to be a leader—you all have it within you but it means being true to yourself."
Each day, students attended technology courses taught by CoB professors that were meant to spark student interest and boost their confidence toward higher education. Students also participated in team building activities and met JMU Football Head Coach Everett Withers.
During their time at JMU, students had the opportunity to live on campus for four days, create their own mobile phone application, learn about encryption and forensics, tour the football stadium, visit the bookstore, and discuss strategies for success in college. "College has a lot to offer, " said one student. "And it doesn't only mean learning behind a desk. Now I am excited about college. One day I want to take the type of college classes we took at CyberCity."
On the last day of their stay at JMU, students presented the work they had completed at CyberCity to an audience of parents and JMU faculty, staff, and students. After closing remarks, students were given CyberCity Awards to recognize their hard work and commemorate their experiences at JMU.  
Honored as a finalist for the 2012 Governor's Technology Award, CyberCity is a program that targets students who may be unsure about attending college and aims to demonstrate to students that they can be successful and enjoy studying at a university. 
To view pictures from this event, please click here. 
Published: Tuesday, July 8, 2014
Last Updated: Tuesday, April 17, 2018