College of Business
Kevin Tucker Wins Entrepreneurial Excellence Award
---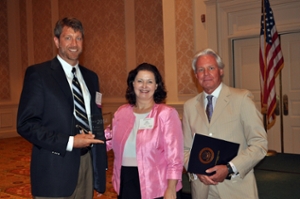 SOLitude Lake Management, an industry leader in lake and pond management, fisheries management and related environmental services for the Eastern United States, recently announced that Kevin Tucker, President and Owner of SOLitude Lake Management, received the Entrepreneurial Excellence Award ​from Hampton Roads' Inside Business. On June 16, 2014, he was honored, along with 15 other winners, at the seventh annual awards luncheon held at The Founders Inn in Virginia Beach, Virginia.
This distinction recognizes Hampton Roads, Virginia entrepreneurs for their "ingenuity, perseverance and positive impact on the community." These awards honor individuals who create businesses that are "successful, sustainable and growing."
"I am honored and humbled to be recognized among my peers," said Tucker. "I am proud of the high quality, value added services that SOLitude provides our clients, while being environmentally conscientious. I have an amazing team and family who has helped make my dream a true success."​
In addition to approaching water quality management to reduce impact on the environment, Tucker pioneered SOLitude's own outreach and volunteer program called The SOLution. The program encourages employees to find and volunteer for causes that are important to them, and also, as a company, work towards their motto of "creating a better world." The program gives employees the opportunity to volunteer during company hours and rewards them through recognition, rewards and paid time off for pursuing their philanthropic passions on their personal time, advocating and fundraising for important causes.
​
To participate or share a non-profit's goals for consideration in The SOLution, contact Tracy King at tking@solitudelake.com or visit www.solitudelakemanagement.com/solution.
Published: Wednesday, June 25, 2014
Last Updated: Wednesday, November 9, 2016