News
Page County Middle School Travels to JMU for the First Ever Cyber Day
---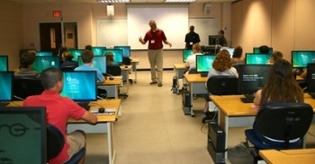 On May 28, 2014, James Madison University faculty and staff welcomed 40 students from Page County Middle School to JMU's newest community outreach event--Cyber Day.  
Students arrived at JMU ready to learn about computers and technology and experience what it is like to be a part of the JMU community.
The Cyber Day itinerary consisted of two technology presentations, chances to meet with JMU faculty and staff, a tour of the campus, lunch at D-Hall, and a discussion on how to best prepare for college upon entering high school. 
CIS professors Dr. Jeff May and Dr. John Guo led the Cyber Day technology presentations. May showed students the step-by-step process of creating a mobile phone app—a skill that many students were excited to do on their own. Seventh grader Rachel Cubbage said, "My favorite part of Cyber Day was the app inventor—I did not know I could that! And it was simple. I am definitely going to try to create an app on my own in the future. It was the best activity!" 
Guo's presentation focused on internet security, teaching students the various ways to protect themselves from internet threats. To demonstrate a concept called steganography, Guo led an activity in which students embedded secret messages within jpg. images. 
Associate Dean Joyce Guthrie and Director of Academic Services Center Michelle Duncan then gave presentations to help students determine if college was in their future and how to best navigate the college application process.
Topics included incentives for attending college, an overview of the various academic degrees students can receive after graduating high school, tips on how to prepare for applying to college, and advice as to what makes a successful college student. "Cyber Day has solidified my decision to go to college," said sixth grader Will Blosser. "And it was great learning what you need to do to prepare for college and what skills are valued in college. Now I know what I need to do once I get to high school—and college too." 
After the first round of presentations, representatives from JMU Admissions gave students a tour of the campus. Many students were excited to learn about JMU's history and traditions. "I really liked coming to JMU," said seventh grader Corinne Murphy. "The tour was great—learning about the secret tunnels and the traditions behind the kissing rock and James Madison's lucky finger were really cool."
The tour ended with lunch at D-Hall, providing students with a glimpse of college life at JMU and the chance to chat with JMU faculty and staff.
After final presentations, CIS professor Dr. Harry Reif provided closing remarks, thanking students for attending the event and encouraging students to pursue their college dreams. Page County Middle School instructor Lisa M. Funkhouser said, "I really enjoyed the Cyber Day activities. They engaged students, sparked their interest in college, and allowed them to explore new technologies. We would love to attend Cyber Day again in the future."
Cyber Day could not have happened without the combined efforts of Dr. Daphyne Thomas, Dr. Tom Dillon, and Reif as well as the many other JMU faculty and staff who helped make this event possible—the College of Business thanks these dedicated individuals.
James Madison University, and the College of Business in particular, expresses its gratitude to the students and teachers from Page County Middle School for their participation—it was a rewarding and inspiring experience for all who attended. 
To view pictures from this event, please click here. 
Published: Tuesday, June 3, 2014
Last Updated: Wednesday, November 9, 2016