News
MGT Faculty Return from Training in Tajikistan
---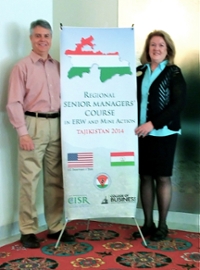 Recently, four Management Department faculty members from the JMU College of Business returned from Dushanbe, Tajikistan, where they facilitated training sessions for managers of mine action/ERW centers in Central Asia.  
As members of the Management Department's International Training Group (ITG), Dr. Paula Daly, Dr. Farris Mousa, Mr. Bob Eliason, and Mr. Fernando Pargas travelled to Dushanbe for the regional Senior Mangers Course (SMC), which took place May 12 through May 30, 2014.
The ITG works with JMU's Center for International Stabilization and Recovery (CISR) to teach transferrable management skills to personnel in programs around the world that are dedicated to the removal of land mines and explosive remnants of war.  The recent SMC in Tajikistan was a collaborative effort between CISR and the Tajikistan National Mine Action Center, with CISR's participation funded by the Department of State's Office of Weapons Removal and Abatement.
Faculty from the College of Business have been involved in similar Senior Manager Courses for the past ten years, teaching a variety of management-related topics such as strategic planning, leadership, and capacity building. Although the original SMCs were hosted on the JMU campus, the SMC in Tajikistan was the first of a new regional training approach that will allow CISR and the ITG to collaborate with host countries to provide onsite training in specific mine/ERW affected regions. 
The program in Dushanbe included participants from Afghanistan, Azerbaijan, Nepal, and Tajikistan. In addition to the nine SMCs at JMU, members of the International Training Group have also partnered with CISR on projects in Jordan, Peru, and Iraq. In 2011, the CoB faculty team that has participated in the COB/CISR collaborative efforts received the College of Business Community Service Award, and in 2012 the same group was awarded the JMU Distinguished Service Award. The members of ITG mentioned above, as well as ITG members Dr. Marion White and Dr. Matt Rutherford, are proud to be a part of initiatives that support global engagement on the part of the College of Business and James Madison University.
Published: Tuesday, June 3, 2014
Last Updated: Wednesday, November 9, 2016