College of Business
JMU Alum Eric Major Featured on NASDAQ CEO Signature Series
---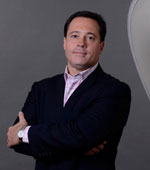 EAC member and CEO of K2M Group Holdings Eric Major was recently featured in the NASDAQ CEO Signature Series, highlighting the growth and success of his company within the medical device industry. 
Major co-founded K2M Group Holdings Inc. and currently serves as CEO and President of the company. In 2010, Major was awarded the Entrepreneur of the Year Award for Emerging Technologies in the Greater Washington D.C. region.
The College of Business congratulates him on his success.
To read the full article released by NASDAQ, click here. 
To view the entire interview, please click here. 
Published: Tuesday, May 27, 2014
Last Updated: Wednesday, June 8, 2016