News
Senior IBUS Students Give Final Presentations
---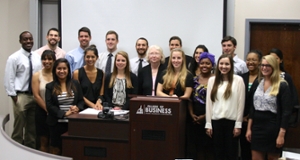 Recently, senior International Business (IBUS) students presented final projects to their client SUNRNR, a company that provides portable solar-powered generators.
On the verge of expansion, SUNRNR looked to JMU IBUS students to analyze the markets of other countries in order to determine the ideal marketplace for introducing SUNRNR's products.
In addition to providing a formal report, each group presented their findings to SUNRNR principals Scott and Jenny French.
During their presentations, students offered a glimpse into not just their location's marketplace, but also the culture, competition, and limitations of a certain location. Groups then ended their presentations by providing recommendations for improving SUNRNR's current business practices in the United States as well as any future business practices abroad.
At the close of the presentations, Ms. French said, "Being unsure what to expect, Scott and I were extremely impressed with the outcome from these capstone projects.  Dr. White was a joy to work with and her plan of dividing the classes into 12 small working groups, each focused on a different global region, gave SUNRNR an incredible start on the evaluation of international target markets.  Both the students themselves and their presentations were terrific--well-researched and professionally-delivered. Their extensive research is invaluable and will not go unused. What a great first experience with JMU—we realize personally just how much JMU students support our community."
This project is an example of one of the many experiential learning opportunities in the College of Business. We thank SUNRNR for making this a valuable learning experience for students. 
To view pictures from this event, please click here. 
Published: Friday, May 9, 2014
Last Updated: Wednesday, June 8, 2016