News
Management Class Participates in 4-VA Collaboration
---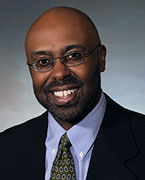 When Management Department Head Dr. Scott Gallagher received a call from UVa's Dr. Ira Harris asking if he would like to have some management students participate in a distance critical thinking class, he couldn't believe his ears. He says, "Dr. Harris was basically offering to deal our students into one of their most prestigious classes as a goodwill gesture." Five management students and honor students are participating in the weekly class. In addition to JMU, students from the University of Virginia and George Mason University are participating in the class.
Management 398 Honors Critical Thinking is a pilot class using the 4VA Telepresence technology. 4VA is a collaborative partnership among four Virginia universities. Its mission is to promote inter-university collaborations that leverage the strengths of each partner university in order to accomplish much more than any individual university could achieve alone.
Harris conceived of and designed the course, which he has been teaching for 11 years at McIntire. It is intended to "help students better understand how we think and the cognitive biases that we all suffer." He says it's the first time he's had students from three different universities participate in the class.
Assigned Reading
Each student is required to read The Science of Fear by Daniel Gardner, and then is asked to read six additional books out of a list of 17 choices. Among the offerings are The Shallows by Nicholas Carr, Words That Work by Frank Luntz, and The Working Poor by David Shipler.
He notes that the assigned books will sometimes contradict his views and the views of the university, but the exploration of these ideas is important to broadening one's thinking.
Harris explains, "This is not a business "how-to" course. The goal is to broaden students' thinking beyond conventional wisdom. This course is concerned with questions instead of answers." He adds, "I believe that everyone has a unique and valuable worldview which is a product of prior life and work experiences, and I believe that students learn far more from each other than from the professor."
Course Goals
This course encourages a free flow of ideas through open, thoughtful discussions. Its goals are to promote critical thinking, enhance an awareness of the interconnected nature of the world's problems, and deepen our understanding of current managerial challenges.
Harris explains, "The basic idea is I'm trying to get them to appreciate a variety of different perspectives. The topics are complex; I hold them accountable for responses." He adds that one important takeaway from the class is whatever the message is, it matters who says it.
Students in the class have mixed reactions to the experience, praising the class but noting the limitations of the technology.
Taylor Deputy thinks it's "good hearing from other people with different perspectives. It would be helpful if we could meet in person. The choice of books and topics is very flexible. You can choose whatever topic interests you."
Sean Williams adds, "I'm not the biggest fan of looking at a screen. Part of critical thinking is that it's unstructured." He continues, "The class takes initiative, it pushes us outside our comfort zones. The topics are very interesting."
How the System Works
The camera in the room is controlled by voice, so it focuses on the person who spoke last. The room for the current class has one camera; the next class will be held in a room with three cameras, which will make it smoother for the JMU students. With three screens, the students can see everyone the whole time. Harris says, "It took a few class sessions to come up with a routine so everyone would be recognized. I tried to balance the time across the three groups."
Why Use Telepresence
Harris explains that he wanted to use the Telepresence technology for two reasons. "It's a technology that's increasingly being used in the marketplace. It's good to have students exposed to it. It also increases the variety of perspectives in the course. An important part of good thinking is gaining an appreciation of the breadth of the topic and the variety of perspectives. Someone forces you to think differently about something."
He thinks the class is successful. "I've heard from several students. They said at the beginning of the semester they were skeptical about the technology being an obstacle. They soon learned that after you settle into the discussion, you become accustomed to it."
He goes on to say the reality of the virtual connection is much better than what students initially thought. He adds, "I did have the students over to my house a few weeks ago. It was fun to see them meeting each other face to face. Two JMU students and two GMU students came." For the initial class meeting, Harris traveled to JMU to conduct the first class in person.
He sums up the class by saying, "It's been a good experience to really push the students in their thinking. I push them to go deeper and deeper; they aren't used to this type of probing. But that's how you get better with your thinking, by holding yourself and others more accountable. Students need to pay attention to the communication and content of the message. By the end of the semester, students tend to leave the course with more questions than they started with. They begin to think differently, to notice things they didn't notice before. This is indicative of a successful semester."
Harris Background 
Harris is on the UVa faculty, and teaches in the area of strategic management and strategic mergers and acquisitions. Before joining the McIntire School, he taught for five years at the University of Notre Dame and was voted the 2001 Mendoza College of Business M.B.A. Outstanding Professor of the Year. He also taught at Texas A&M University for three years. Professor Harris is a certified public accountant in Illinois and Virginia. He was an Auditor in the Chicago Office of Deloitte Haskins & Sells for three years and a Financial Reporting Manager for four years at MCI Telecommunications. In addition to teaching, he runs his family's self-storage business in Tappahannock, Va.
He has published numerous articles; his research focuses on corporate governance and mergers and acquisitions. He has studied boards of directors and how their composition affects major strategic decisions. His recent governance research particularly addresses the context of family business. He is currently studying the distinguishing governance characteristics of family business ownership and the various "non-equity" and "non-genetic" ways of defining family ownership.
​Plans are underway to continue the class in the fall 2014 semester.
Published: Friday, May 2, 2014
Last Updated: Wednesday, November 9, 2016