News
AMA Wins Silver Chapter Award at International Collegiate Conference
---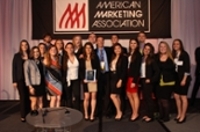 Recently, nineteen students from the JMU chapter of the American Marketing Association (AMA) travelled to New Orleans to compete in the International Collegiate Conference, where 351 collegiate chapters from North America, Central America, and South America joined together to showcase their efforts from the past year while growing their knowledge in marketing.
The AMA is a professional organization that sponsors marketing-related events and activities in addition to publishing several marketing publications throughout the year.  Collegiate chapters of the AMA strive to excel in the categories of community service, professional development, fundraising, social activities, membership activities, and communication activities.
This year, JMU was recognized with the prestigious Silver Chapter Award and ranked 12th out of the 351 chapters that attended.  JMU excelled in each of the categories, and their successes earned  the award, which was given along with a monetary prize to help support JMU's chapter. 
This is not the first time that JMU has been a standout college at the conference.  Marketing professor Mr. Robert McMillen has advised the JMU AMA for the past 15 years, and JMU has ranked in the top 20 schools for 14 of the 15 years that McMillen has served as adviser. 
At the conference, notable marketing professionals spoke and there was also a sales competition and a chapter exhibit, which ran like a trade show.  At the chapter exhibit, each school chose a theme for their presentations.  This year, JMU chose a presidential theme, based off of James Madison.
"The proudest moment for me is the fact that the students are able to compete with all the top schools in the country and they're right there with them," said McMillen. "There is no other school that competes as well as we do with the consistency we have had throughout the years."
Senior marketing major and president of the JMU AMA Lauren Hale realizes the significance of the trip to New Orleans. She says, "Members from JMU and beyond were able to engage in a wealth of professional development opportunities while enjoying everything that the great city of New Orleans has to offer."
By Colleen Lyons (Communication Studies, '16)
Published: Thursday, May 1, 2014
Last Updated: Wednesday, June 8, 2016