News
Marketing Class Places in National Service Marketing Competition
---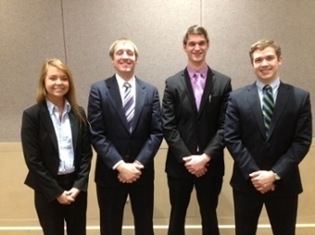 A team of marketing students, coached by Professor Bill Faranda, recently participated in the National Service Marketing Competition, held in February at Bowling Green State University, Bowling Green, Ohio.
The competition included three events:
Constructing a service blueprint for Garage Management Company, which operates multiple locations in Manhattan
Participating in a customer complaint role play for Total Quality Logistics, a trucking brokerage firm which helps businesses move over 16,000 freight loads per week.
Solving a service recovery challenge for Speedway LLC, a gas station/convenience store chain operating 1,500 locations in the Midwest
The JMU team, all senior marketing majors, tied for first place in the blueprint segment of the competition. Pictured above are team members Nichole Barnes, Carl Hollinger, Erik Spatz, and Freddy Weber.
Six universities attended this inaugural event. 
Faranda, who accompanied the team, says, "The preparation of the blueprint took several weeks; the team started at the beginning of the spring semester, and worked nonstop. They also created a 10-page report in support of the blueprint. I'm proud of how dedicated they were, how much time they put in, and how well they represented JMU when they were at the competition."
He adds, "I look forward to next year's competition, which will give more students the opportunity to participate in solving real world marketing challenges."
This competition is an excellent example of CoB students being involved in experiential learning, which is a hallmark of the college. 
Published: Monday, April 14, 2014
Last Updated: Wednesday, November 9, 2016