News
Dr. Raktim Pal Presents His Investigation of Disaster Relief Operations
---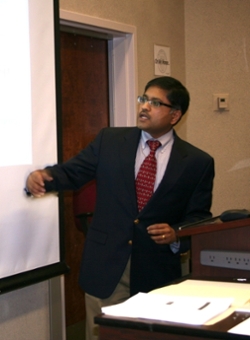 On Wed. April 2, CIS/BSAN professor and Madison Scholar Dr. Raktim Pal presented a CoB Madison Lecture entitled, "Investigating the Effectiveness of United Nation's Cluster Approach in Humanitarian Operations."
Pal began his presentation by explaining that a number of recent disasters have taken the lives of thousands and disrupted the livelihood of tens of thousands. While a number of researchers and practitioners are exploring ways to improve the effectiveness of disaster response operations, Pal views one major problem with such operations being the ineffective practices of disseminating information.
In response to these issues, the United Nation created the Cluster Approach in an effort to facilitate a coordinated information exchange among agencies during disaster relief operations. In this approach, clusters are formed through partnering with agencies that work together towards common emergency response objectives. 
Unfortunately, Pal explained, critics have denounced the Cluster Approach as being ineffective and unproductive. In response to such critics, Pal paired an information-processing based view with agent-based modeling and simulation to investigate the effectiveness of the Cluster Approach in disaster relief operations. 
According to Pal, the study results indicate that, when properly utilized, clusters encourage a better dissemination of information, thereby facilitating a more effective response to disasters. In this view, the lead clusters must act as an information hub for other agencies and work to disseminate both high quality and relevant information.
The study also indicated that an agency's willingness to share information plays a larger role in transmitting information than that of an information hub. As such, Pal explains, "It is important for disaster response agencies to recognize the importance of sharing information among other agencies so that information can reach its target faster, thus providing effective relief to victims of disaster—agencies that try to monopolize information and operate alone are largely ineffective." 
Published: Thursday, April 10, 2014
Last Updated: Wednesday, November 9, 2016