News
Madison Vision Speaker Series presents Carly Fiorina
---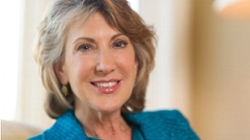 The Office of the President, in conjunction with the Madison Institutes of JMU's department of Outreach and Engagement, welcomes Madison Vision Series speaker Carly Fiorina.
Fiorina is the former chief executive office (CEO) of Hewlett-Packard. She was also once the California Republican candidate for the United States Senate and has served as an advisor to Republican presidential candidate John McCain.
In July, 2012, Governor Bob McDonnell of Virginia appointed Fiorina to the JMU's Board of Visitors.
Fiorina will present her talk, "Foundations of Ethical Reasoning," on Wednesday, April 9 at 3:30 p.m. in Wilson Hall Auditorium.
Fiorina will also speak in the College of Business on Thursday, April 10 from 3:30 p.m. to 4:30 p.m. in Zane Showker Hall room 106. 
The CoB is pleased to welcome Ms. Fiorina to the college; her presentation will provide our students the opportunity to learn from a highly successful, respected businesswoman.
Published: Thursday, April 10, 2014
Last Updated: Wednesday, June 8, 2016