News
First Women in Leadership Conference Successful
---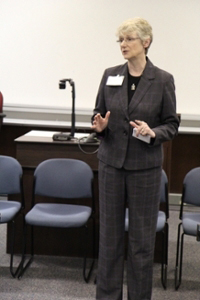 JMU held its first ever Women in Leadership Conference on Saturday, March 22. The purpose of the conference was to help students with the transition from college to career.
The impressive lineup of speakers and topics included Keynote Speaker Dr. Alison Morrison-Shetlar (pictured left), Provost and Vice Chancellor for Academic Affairs, Western Carolina University; Mary Anne Mason, Esq., Partner, Crowell and Moring, Washington, D.C.; and Mary Ann Alger, Business Development Consultant and JMU First Lady.
Topics included entrepreneurship, successful negotiations, and building credibility.
The speakers shared valuable tips with the students:
Find your passion
Find your network of people
Be flexible
Don't take things personally
It's OK to say, "I don't know"
Don't oversell
Excellent writing skills will help distinguish you
Try new experiences while you're in college
Step way outside your comfort zone
Experience a semester abroad
Know yourself as you actually are
Take a risk
Whatever happens, you'll be OK
Learn to negotiate for yourself 
Student Tory Zehnder says, "What I liked most about the conference was the variety of personalities. There were so many different types of people and all of them were very successful in their own way. Each speaker had a very different story so hearing about all their different backgrounds and routes to success was intriguing."
Senior Tess Rosenthal adds, "The keynote speaker was excellent. The conference was extremely helpful, giving us the confidence we need to be successful in the workplace."
Plans are already underway for next year's conference, which will include a wide variety of speakers and topics. 
To view pictures from this event, click here. 
Published: Wednesday, April 9, 2014
Last Updated: Wednesday, November 9, 2016