News
Beta Alpha Psi Leadership Speaker Series Wraps Up With Speaker Jen Busse
---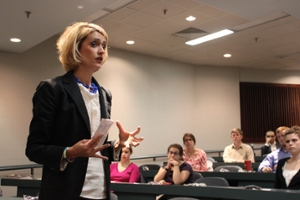 On Monday, April 7, Beta Alpha Psi wrapped up its Leadership Speaker Series by hosting Jen Busse, regional talent acquisition leader at McGladrey, to talk about how to excel at public speaking. 
Busse began her presentation by emphasizing that public speakers have to be individuals when speaking. Further, she urged the audience to learn public speaking skills by paying close attention to parents, professors, coaches and others around them because practicing leads to better presenting. 
The first main point Busse raised is the importance of capturing the audience. She explained that by mirroring and matching audience actions and reactions, a speaker will be fully engaged and form a connection with the audience when speaking. In order to reach an audience, Busse explained, one must exert a little bit of confidence and have full knowledge on the topic at hand. She said that even if a speaker has little in common with his or her audience, he or she must find something to form a connection, despite any and all differences.
Busse offered some tips on how to form a strong connection with the audience, including eye contact – something, she added, with which college students often struggle – and a firm handshake. 
Busse's second tip for public speaking was to always be ready for curveballs. By being prepared and knowing the topic, a good speaker can take a curveball or mess up without the audience knowing. Further, Busse assured the audience that everyone makes mistakes now and then.
"Success is easy," she says. "It's failing that's hard. And it doesn't matter how you fail; you recover from it."
Next, Busse spoke about the important of networking. She urged the audience to surround themselves with different, intellectually-stimulating people. She also encouraged the audience members to stay connected with each other, as the network formed among college peers remains solid throughout one's career.
"Be proud, be respectful, and always help out a fellow Duke," said Busse.
The last important point Busse raised for public speaking is to practice. While practicing is done differently depending on the speaker's preferences, it is important, regardless of the manner in which it is done. 
Busse concluded by telling the audience members that the main point is to be able to take risks and push themselves because life is a nonstop learning process. She explained the importance of being able to laugh at oneself as a way of increasing confidence. Lastly, she encouraged everyone to have fun with public speaking, and all of life's other endeavors as well. 
The Beta Alpha Psi Leadership Speaker Series had four parts, each highlighting different facets of leadership. James Madison University's Beta Alpha Psi chapter won first place in the "Best Practices: Leadership" category at the Regional Meeting in Connecticut this March and will compete against other regional winners from across the country at the Annual Meeting this summer in Georgia.
By Alix Carlin (Communication studies, '14)
Published: Wednesday, April 9, 2014
Last Updated: Wednesday, November 9, 2016