News
Black Magic Composting Inc. Takes Top Honors in the Jackson-Rainey Business Plan Competition
---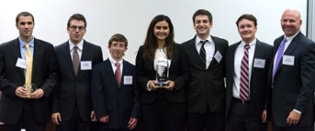 Congratulations to the Black Magic Composting Inc. team members who took first place in the 2014 Jackson-Rainey Business Plan Competition, held on  Saturday, March 29.  The team's business plan pitched Black Magic Composting Inc., an s-corporation that provides organic waste collection services and produces compost to sell.
This competition marked the 12th year for the annual event. The six final teams were selected after a number of judging rounds by panels consisting of College of Business faculty, alumni, and business professionals who reviewed and rated the plans. This year's prizes and scholarships totaled over $25,000, generously provided by Wayne Jackson and Don Rainey, both former EAC members, and competition judges.
Jackson, Rainey Support Competition
Both Jackson and Rainey are proponents of the COB 300 course and the entrepreneurial skills students gain while working through this integrated learning experience. According to Rainey, "Entrepreneurship is the engine of growth and of creation. To the degree that we can, we are going to encourage entrepreneurship at all levels of income, strata of society, and levels of education. Through our support, we are helping these kids leave with a big advantage. If they have the drive, we want to give them the tools."
As one of the main objectives of the course, COB 300 prepares students to approach business as a collaborative process that is based in professionalism and a dependency among disciplines. Students leave this course with a better understanding of the ways to combine knowledge and skillsets in order to reach shared goals. For Jackson, the quality of students leaving the COB 300 course increases each year. "It's incredibly impressive," he says. "Every year that I've done this, I've been more and more impressed by the caliber of kids, their level of energy, their knowledge, their ability to get up in front of an audience and speak effectively—I think it's an extraordinary course."
Ferguson Top Female Leader Award
Presented for the first time this year was the Ferguson Top Female Leader Award. This award was provided by former business plan competition participant Katherine Ferguson.  Ferguson says, "The impact has been exponential in my career. I attribute it to the College of Business 300 program and I attribute it to the business plan competition, and to the judges taking a coaching and mentoring interest in me."
Manahil Malik of Black Magic Composting Inc. received the award. About her performance in COB 300 and winning the Ferguson Top Female Leader Award, Malik says, "Once you complete COB 300, most people assume you're glad that it's over. I think I am the only person so far who misses COB 300. I really like strategic thinking, and I like big picture thinking. It's had a huge impact on me. I want to thank Wayne Jackson, Don Rainey, and Katherine Ferguson for their support. I'm honored to be the first recipient of the Ferguson Top Female Leader Award."
The College of Business would like to thank the students, the judges, the faculty and staff, and the family members who attended this event, as well as the generous financial supporters of the event.
Team Winners
Teams:
First Place: Black Magic Composting Inc. (The team also won the Accenture Best Idea Award)
Evan Beach (Finance)
Malcolm Coate (Accounting)
William Crain (CIS)
Manahil Malik (CIS) (Ferguson Top Female Leader Award)
Zach O'Neill (Accounting)
Mark Schulein (International Business)
Second Place: Kinetic Step (The team also won the Best Team Award)
Elizabeth Bilotta (Marketing)
Michael Chawaga (Marketing)
Chris Corriveau (Finance)
Jamie Danehower (Finance)
Shawn Gulati (CIS)
Eric Kramer (Management)
Third Place: Koala Kontainers
Alex Galasso (Management)
Kim Peters (Accounting)
Jay Schwab (Management)
Gurnoor Toor (International Business)
Danli Wu (Finance)
Fourth Place: InkAway LLC
Kevin Fonseca (CIS)
Eric Johnson (Management)
Chelsea Kirton (International Business)
Daniel O'Brien (Accounting) (MVP)
Maria Poznyakova (Accounting)
Melanie Slayton (Accounting) (MVP)
Fifth Place: Hey Day Entertainment LLC
Samantha Aitken (Marketing)
Nick Bisson (CIS)
Mike Cascino (Marketing)
Brandon Cox (Management) (MVP)
Mary Kelly (Marketing)
Tom O'Connor (Marketing)
Sixth Place: UV-Capital
Evan Armour (CIS) (MVP)
Omeisha Barnes (Accounting)
Hunter Breeden (Marketing)
Alison Courtney (Management)
Alex Prevost (Marketing)
Scott Stangeby (Finance)
Many thanks to the following volunteers who judged the competition:
Don Rainey (Chief Judge), General Partner, Grotech Capital Ventures
John Connor, a Founder, Ethos Group
Katherine Ferguson, Vice President of Business Development, Cooley LLP
Frank T. (Buddy) Gadams, President, Marathon Development Group, Inc.
Wayne Jackson, CEO, Sonatype
Jennifer Morgan, President, SAP Regulated Industries
Justin Quaglia, Leveraged Finance Sales, Goldman Sachs & Co.
Mark Thompson, Founder and Owner, Starr Hill Brewery
The Jackson-Rainey Business Plan Competition is a testament to the hard work and dedication of these COB students. This showcase event gave students the opportunity to present their business cases to a distinguished panel of judges and provided them an excellent opportunity to experience presenting business proposals in a real-world setting. 
To view pictures from this event, please click here.  
Published: Tuesday, April 1, 2014
Last Updated: Wednesday, November 9, 2016