News
Haim Bodek to Speak Wed. April 2 at 3:30 pm in Grafton Stovall
---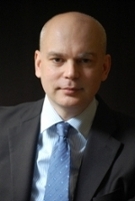 High-frequency trading whistleblower Haim Bodek will present "Trick of the Trade: How High Frequency Corrupted the National Market System" on Wed. April 2 at 3:30 p.m. in Grafton Stovall.
Bodek is credited with alerting the SEC that high frequency traders were using computer programs to gain priority access to stock trades, providing an unfair exchange advantage.
Bodek is a former Goldman and UBS trader, and he recently founded his own high frequency options trading firm, Trading Machines LLC.  Bodek firmly speaks out against the workings of stock market exchanges with high frequency traders.
To view a short documentary about his efforts, click here.
Published: Monday, March 31, 2014
Last Updated: Wednesday, June 8, 2016