News
Delta Rho Chapter of PSE Finalist in Marketing Challenge
---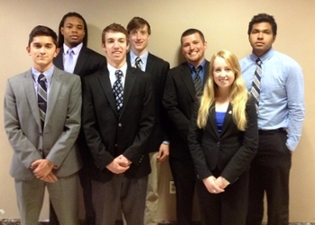 Ever sat with your friends and said, "Next year we should all go to _____!" And how many times does that work out? If you want help with your trip planning, little-known company Outski is the company for you. 
And, thanks to a dedicated Pi Sigma Epsilon (PSE) business fraternity team, Outski's visibility and membership will continue to grow. Outski team members shown in the picture are (back row) Micah Andrews, Jack Crowder, Matt Powers, Abin Dahal and (front row) Spencer Timme, Sam Kehoe, and Sara Coit. Team members Cassandra Derby, Ashley Mills, and Jacie Specht are not shown.
In mid-December 2013, the PSE group accepted a national marketing challenge announced by Outski. The startup's invitation to PSE was simple: how many new members can you enroll?
Reagan Lashlee, president of JMU's Delta Rho Chapter of PSE led the chapter as it quickly took action and created a marketing plan for enrolling users. The team learned on Feb. 18 that it is a top team finalist, and will receive $2,500 to help in developing the best marketing plan. The overall winning team will receive $10,000.   
Other finalist schools include the University of Alabama – Birmingham, Northeastern, Ohio State, Cal State Fullerton, Miami of Ohio, and Appalachian State.
How does Outski work?
Outski's web-based approach facilitates group trip planning like those done by students for spring break.  Once you create an account, all you have to do is figure out where you want to go! Outski will help all the members in your group plan appropriate flights, hotels, restaurants, or whatever you need to make your trip great!  One feature even allows you to establish an account that can help you budget and save money for the trip over a period of time.   
JMU's Team
JMU's Outski marketing team, led by VP of Marketing Sam Kehoe, includes Cassandra Derby, Jacie Specht, Jack Crowder, Matt Powers, Sara Coit, Micah Andrews, Spencer Timme, Abin Dahal, and Ashley Mills. The team will market Outski through sign-up stations outside of big events such as basketball games and Madipalooza, and also through social media outlets, which are often accessed by potential users.
The team will use part of their $2,500 award for promotional items such as Ipads and gift cards to incentivize students, parents, teachers, and friends to enroll. 
"We are very proud of the initiatives being taken by our new PSE officers and members.  The chapter has taken a definite upward turn in professionalism and is now competing nationally on an equal footing with some of the top schools in the country," says Dr. Joe Derby, PSE Delta Rho Advisor.
Published: Monday, March 31, 2014
Last Updated: Wednesday, November 9, 2016