News
Melissa Jackson Named JMU Outstanding SEM Student Scholarship Winner
---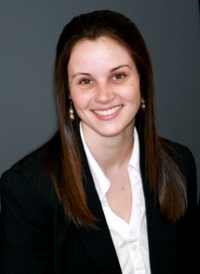 Recently, senior marketing student Melissa Jackson was awarded Dynamic Web Solutions' Outstanding Search Engine Marketing Student Scholarship winner. The scholarship, created by owner of Dynamic Web Solutions Brian Forrester, aims to encourage JMU students to pursue a career in online marketing. 
To be eligible for the scholarship, applicants must be enrolled in Theresa Clarke's Internet Marketing Practicum course (MKTG 477). According to Forrester, students enrolled in this course emerge at the end of the semester with a better sense of effective online marketing strategies and a firm understanding of search engine optimization and search engine marketing techniques—knowledge that some graduates from other programs lack. 
The course aims to provide students with hands on experience in online marketing campaigns through the Google Online Marketing Challenge, a type of exposure that makes JMU marketing students particularly appealing to future recruiters. For Jackson, the course has helped her gain insight into the world of online marketing. She says, "Through Google AdWords, we gain a lot of experience with paid search and we learn to navigate the various principles used to effectively maximize online marketing campaigns—all for an actual client. We also run Google+ accounts for our clients. This real world experience is challenging at times, but I know will help prepare me to enter the job market."
The skillsets JMU students acquire in the MKTG 477 course make deciding the winner of the scholarship no easy task. "From the JMU applicant pool, it was an extremely difficult decision," Forrester  says. "But Melissa stood out  in her knowledge, her writing skills, and her dedication. We look for applicants who  are both knowledgeable and well-rounded; Melissa's commitment to education as well as the JMU community goes above and beyond the average student."
Jackson  explains that, in addition to her scholarship, Dynamic Web Solutions has supported her growth and development as a professional beyond academia. For four days in December, Jackson took advantage of an opportunity to work in an externship for Dynamic Web Solutions.
During her time there, she was able to witness the day to day activities and shadow some of the employees.  She explains, "This experience was a huge factor in my deciding to apply for both the scholarship and a job position at Dynamic Web Solutions. During my externship, I learned the benefits of working for a smaller company, and I was impressed with the friendly atmosphere. Even in just the four days I was there, I learned a lot."
As a student preparing to graduate and enter the job market, Jackson explains that her experiences in the practicum course and with Dynamic Web Solutions has proven enriching. "I was really excited and flattered to have won the scholarship. I think it will definitely open some doors for me, and I am really glad I went through the application process. Just answering the application questions was helpful for me, especially in preparing me for future interviews because now I have answers to questions that I know I will be asked concerning the industry and my experiences."
To all other marketing students, both Jackson and Forrester  encourage students to enroll in the Internet Marketing Practicum and take advantage of the opportunities provided in the course.
Based in Richmond, Va., Dynamic Web Solutions is a digital marketing firm that provides online marketing solutions for companies hoping to strengthen their brand and improve their online presence. 
Published: Wednesday, March 26, 2014
Last Updated: Wednesday, June 8, 2016